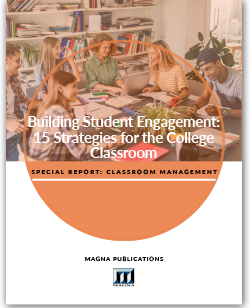 As an instructor, it can be hard to light the fire for student engagement, and it can be even more difficult to keep the fire burning when student apathy and boredom creep into your classroom.
If you're looking for new strategies to keep your students awake and to mitigate the glazed over looks, you may want to add this free report to your toolbox.
This report is free when you sign up for Faculty Focus, a free newsletter with effective pedagogical techniques to bring with you to both the classroom and online!
Articles Include:
Student Engagement: Trade-offs and Payoffs
Student Attention Spans
Active Learning: In Need of Exploration
Freaks and Brainiacs
Traffic Lights and Participation
Active Learning: A Perspective from Cognitive Psychology
When Teachers are 'Present'
Does Participation Promote Engagement
The Truly Participatory Seminar
Student Engagement: A Different Perspective
Living for the Light Bulb
Academic 'Speed Dating'
Facilitation Skills: The Way to Better Student Discussions
What Does Student Engagement Look Like?
Student Engagement Strategies for the Online Learning Environment