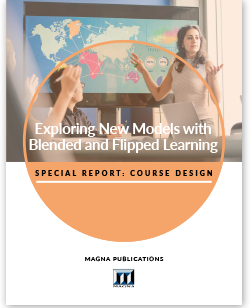 It's hard to pick up a publication these days without reading something about blended course design or the flipped classroom. Despite its growing popularity, defining blended learning and flipped learning is more difficult than one would expect. This report dives into different blended and flipped methods from videos to student feedback and more!
At the heart of both blended learning and flipped learning is a learner-centered curriculum that changes the traditional roles of both the instructor and student.
This special report is free when you sign-up for Faculty Focus, a free online resource filled with effective teaching strategies written by faculty members just like you.
Articles Include:
Time Management Strategies for the Flipped Classroom
Getting Started with Blended Learning Videos
Recommendations for Blended Learning Course Design
Flipping Large Classes: Three Strategies to Engage Students
Looking for 'Flippable' Moments in Your Class
"I Don't Like This One Bit." Tales from a Flipped Classroom
Fact vs Feeling in Flipped Learning
Expanding the Definition of a Flipped Learning Environment
Blended Learning: A Way for Dealing with Content