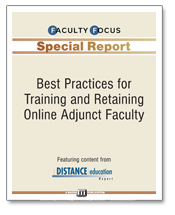 As colleges and universities continue to expand their online course offerings, increasingly they're turning to adjuncts to help carry the load. These online instructors, many of whom work full-time in addition to their part-time teaching gig, create unique training and retention challenges. This report features strategies for ensuring distance education faculty have the necessary training and support to succeed.
Higher education institutions invest significant time and resources in the recruitment and hiring of online instructors. To lose them because they don't receive adequate training, compensation or support would be a waste of time, effort, and resources, not to mention the potential impact on course quality.
This special report is free when you sign-up for Faculty Focus, a free online resource filled with effective teaching strategies written by faculty members just like you.
Take a look at the articles you will find in Best Practices for Training and Retaining Online Adjunct Faculty:
Getting By With a Little Help from One's Friends: Mentoring Program Boosts Faculty Retention
Giving Part-Time Online Instructors What They Need
Training Online Adjuncts the Florida Way
The Virtual Faculty Lounge: Providing Online Faculty Development for Adjunct Instructors
Eight Facts to Know About What Bothers Your Distance Education Faculty, and What Keeps Them Coming Back
Training 60,000 Faculty to Go Online
Development on Demand: Professional Enhancement Resources for a Geographically-Diverse Faculty
Jump Starting Faculty into Online Course Development
A System for Managing Online Faculty
Tips for Designing an Online Faculty Workshop
Designing a Certificate Program for Preparing Faculty for Online Teaching and Hybrid Course Development
How to Train and Maintain Your Distance Education Faculty