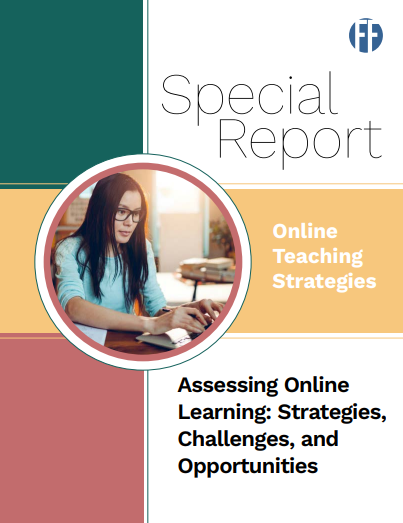 As online education becomes a mainstream of the higher education ecosystem, one question still persists: "How do I know what my online students have learned?" There are no easy answers, just as there aren't in face-to-face courses, but with a little creativity and flexibility, you soon discover that the online learning environment opens up a host of new educational assessment possibilities.
Of course, just as with traditional courses, the trick to online assessment is finding the right combination that works best for your particular course. This special report Assessing Online Learning: Strategies, Challenges and Opportunities will show you how.
This report is free when you sign up for Faculty Focus, a free newsletter with effective pedagogical techniques to bring with you to both the classroom and online!
Take a look at some of the articles will find in Assessing Online Learning: Strategies, Challenges and Opportunities:
Seven Assessment Challenges of Moving Your Course Online (and a Dozen+ Solutions)
But What If They Cheat? Giving Non-Proctored Online Assessments
Informal Assessment Activities for Blended and Online Courses
Unlocking the Promise of Digital Assessment
Creating Better Multiple-Choice Tests for Online Courses
Using Self-Check Exercises to Assess Online Learning
Using Online Discussion Forums for Minute Papers
Small Online Teaching Strategies that Engage Students and Improve Learning