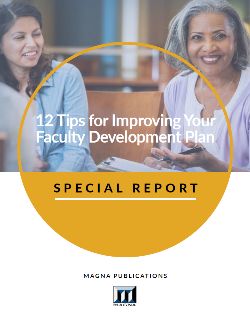 From developing strategies that enrich student learning to fostering a campus culture that values innovative teaching and learning, quality faculty development is the cornerstone to educational excellence.
We're confident 12 Tips for Improving Your Faculty Development Plan will provide you with fresh ideas that you can use right away to help boost your professional development and improve student learning.
Your special report will be sent to you via email when you sign-up for Faculty Focus, a free online resource filled with effective teaching strategies written by faculty members just like you.
Articles included:
From Rusty to Robust: Overcoming the Challenges to Effective Faculty Development
Teaching and Learning Centers as Catalysts for Faculty Diversity Development
Why Do You Teach?
Five Emerging Trends for Academic Leaders
Talk about Teaching That Benefits Beginners and Those Who Mentor Them
Does Online Faculty Development Really Matter?
Senior Faculty and Teaching Effectiveness
Using Faculty Learning Communities to Support Program-Level Assessment
Inspiring Change with Your Strategic Plan
Establishing and Supporting a Faculty Mentoring Program
Content Knowledge: A Barrier to Teacher Development
Creating an Effective Mentoring Program