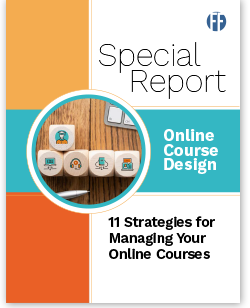 Much has been written about the challenges of teaching an online course. While not discounting the unique (and sometimes frustrating) aspects of the online learning environment, it could be said that, despite the numerous differences, many of the same course management strategies that are essential to success in a traditional classroom also apply in the online classroom.
A strong syllabus, clear directions, well-organized materials, and timely feedback are the building blocks of any course management plan … whether you teach online or face to face.
This report is free when you sign up for Faculty Focus, a free newsletter with effective pedagogical techniques to bring with you to both the classroom and online!
11 Strategies for Managing Your Online Courses was created to help online instructors tackle many of the course management issues that can erode the efficiency and effectiveness of an online course. It features 11 articles pulled from the pages of Online Classroom, including:
Ideas for Creating an Effective Syllabus for Online Learning
How to Design Online Courses to Enhance Student Engagement
Making Visible the Invisible
What Online Faculty Can Do to Avoid Burnout
Time-Saving Tips for Teaching Large Online Classes
Top Online Course Design Mistakes
Perspectives in Understanding Online Teaching and Learning Strategies for First-Year Generation Y Students
10 Ways to Get Reluctant and Downright Scared Students Enthusiastic About Taking Online Courses
What Are You Saying Online Without Your Words
How to Keep from Going MIA in Your Online Course
Ten Online Teaching Tips You May Not Have Heard