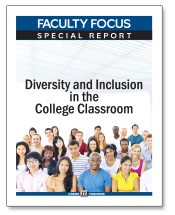 Meaningful conversations about race, diversity, and inclusion can be surprisingly rare occurrences in higher education classrooms. Students and faculty alike, especially those in the majority, often fear saying the wrong thing, so they say nothing at all and hope the moment passes without too much discomfort. When issues around diversity become unavoidable, faculty often feel ill-equipped to address them effectively.
Diversity and Inclusion in the College Classroom is a free, downloadable special report featuring 20 articles from faculty teaching at a wide range of institutions throughout the United States and Canada.
This special report is free when you sign-up for Faculty Focus, a free online resource filled with effective teaching strategies written by faculty members just like you.
These articles tackle some of the trickiest challenges in creating an inclusive and respectful learning environment for a community of learners that is growing increasingly diverse.
Managing Hot Moments in the Classroom: Concrete Strategies for Cooling Down Tension
Seven Bricks to Lay the Foundation for Productive Difficult Dialogues
Activities for Building Cultural Competencies in Our Students and Ourselves
Managing Microaggressions in the College Classroom
Inclusive Assessment: Equal or Equitable?
Creating a Culture of Inclusion in the Online Classroom
Set-Create-Reflect: An Approach for Culturally Responsive Teaching