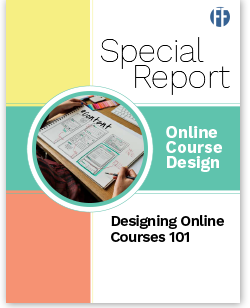 Designing an online course shares many of the same elements and processes that go into designing a traditional face-to-face course, however the online environment brings a unique set of challenges that require special attention and a different approach.
Many institutions are realizing that the development and delivery of online courses is an increasingly complicated process, requiring both a specialized pedagogy and a technological expertise. Whether you're developing a new online course from scratch, or updating one that's starting to show its age, this report will give you new ideas to consider.
This report is free when you sign up for Faculty Focus, a free newsletter with effective pedagogical techniques to bring with you to both the classroom and online!
This free report contains the following articles:
The Online Course Test-Drive
Seven Things to Consider Before Developing Your Online Course
Building Course Quality Systematically
Special Considerations When Drafting an Online Course Syllabus
Supporting Excellence in Online Teaching and Learning
Top Online Course Design Mistakes
Who Ya Gonna Call When a Course Needs Help?
Universal Design in Online Courses: Beyond Disabilities
Improving the Instructional Designer-Faculty Relationship
Is There Too Much Interaction in Your Courses?