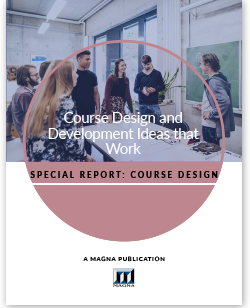 So much of what determines the overall success or failure of a course takes place well in advance of the first day of class. It's the thoughtful contemplation of your vision for the course — from what you want your students to learn, to hand-crafting each and every activity and finding materials that will fuel learning. This special report, Course Design and Development Ideas That Work, brings you proven course design alternatives implemented in courses of varying sizes and disciplines.
This report is free when you sign up for Faculty Focus, a free newsletter with effective pedagogical techniques to bring with you to the classroom!
Articles include:
A Course Redesign that Contributed to Student Success
The Placement of Those Steppingstones
Understanding Different Types of Group Learning
A Brain-Friendly Environment for Learning
A Large Course with a Small Course Option
A Blog, a Physics Course, and a Change in Student Attitudes
A Critique of Scaffolding
Maximizing Engagement in the Flipped Classroom
The Truly Participatory Seminar
When to Begin the End: The Role and Use of Summary in Course Design
In-Class Writing: A Technique that Promotes Learning and Diagnoses Misconceptions
Should Students Have a Role in Setting Course Goals?