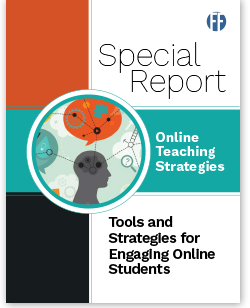 Most online students, even those who are successful, will tell you it takes an extra dose of motivation to stay on top of their assignments compared to the traditional classroom. No wonder online courses have an attrition rate that's 10 – 20 percent higher than their face-to-face counterparts.
The anytime/anywhere convenience of online learning sometimes makes it too convenient to procrastinate, forget about, and become otherwise disengaged. Online Student Engagement Tools and Strategies features 10 articles that provide practical advice from online instructors.
This report is free when you sign up for Faculty Focus, a free newsletter with effective pedagogical techniques to bring with you to both the classroom and online!
The articles in this report include:
I Am Not a Robot
Synchronous Online Classes: 10 Tips for Engaging Students
Student Engagement Strategies for the Online Learning Environment
Five Ways to Foster Creativity in Your Online Classroom
Midweek Motivation: Encouragement for Online Learners
Add Interactions to Your Online Videos
Five Ways to Build Community in Online Classrooms
Teaching Online with Errol: Personality DOES Matter!
Building a Community of Learners in Online Classes