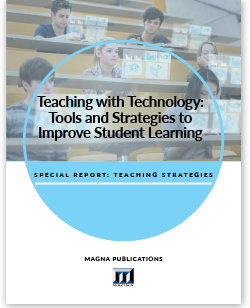 Technology proliferates our world and lives, so why not the classroom right? Although you might be hesitant to explore technology in the classroom, we're here to guide you through it with not-so-technical, yet practical techniques.
Teaching with Technology: Tools and Strategies to Improve Student Learning approaches teaching technologies from your perspective — discussing what works, what doesn't, and how to implement the best ideas in the best ways.
This special report is free when you sign-up for Faculty Focus, a free online resource filled with effective teaching strategies written by faculty members just like you.
Articles Included:
3 Cool Tech Tools to Consider for the Digital Classroom
5 Surprising Tips for Using Handheld Educational Technologies in Lecture
Using VoiceThread to Build Student Engagement
Bitmojis, Gifs, and Snaps in the Classroom? Oh My!
Prezi: A Better Way of Doing Presentations
Using a Blog to Enhance Student Participation
Showtime in the Classroom: 7 Ways Streaming Video Can Enhance Teaching
The Purpose of Educational Technology is Interactivity
Let's Solve the Right Problem: Intentional Teaching with Technology