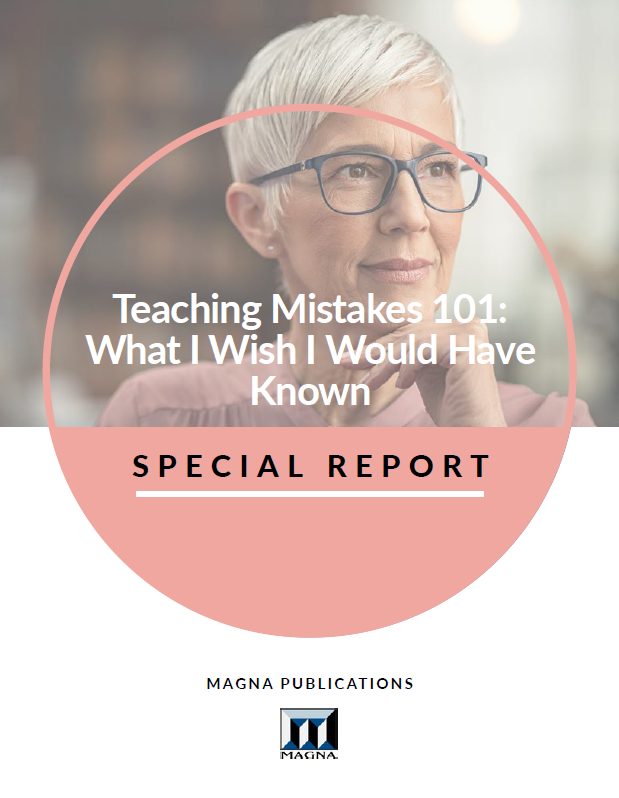 Think back to your first few years of teaching. If you're like most educators, you probably made your share of mistakes. Maybe you were too strict or not strict enough. Perhaps you were so absorbed delivering your course content that you didn't realize half the class was completely lost. Or maybe you made assumptions about your students that later proved to be false. You're not alone.
Teaching Mistakes 101: What I Wish I Would Have Known features 11 reflective essays from instructors who were generous enough to share their early-career missteps in hopes that others can learn from their mistakes.
This special report is free when you sign-up for Faculty Focus, a free online resource filled with effective teaching strategies written by faculty members just like you.
Articles in Teaching Mistakes 101: What I Wish I Would Have Known include:
When Teaching Fails
You Like Me, You Really Like Me: When Kindness Becomes a Weakness
Four Beginner Teacher Mistakes and How to Avoid Them
Establishing Credibility with Students: It Doesn't Happen Automatically
The Three Worst Teaching Mistakes
Three Common Mistakes to Avoid When Teaching Online
If I Tell Them, They Will Learn
Things My First Unhappy Student Taught Me
What Works in One Culture May Not Work in Another
Assumptions I Made in the Past and How I Come to Know My Students Now
On a Frustrating Day or in a Trouble Class, Remember We All Make a Difference