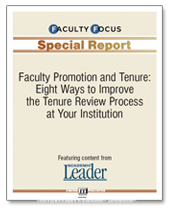 New academic tenure and promotion processes, often developed to reflect changing needs (i.e., how to reward online faculty) or dispel old assumptions (i.e., research is more important than teaching and service), cannot and should not be implemented overnight, but they are worth close examination to see if similar processes would make sense for your school.
It's no wonder then, when it comes to faculty promotion and tenure policies, colleges and universities tread lightly while at the same time are always seeking new, better ways to bring more transparency and clarity to this critical system.
This Faculty Focus special report features eight thought-provoking articles from Academic Leader, and was created to provide you with new perspectives on the promotion and tenure process.
This special report is free when you sign-up for Faculty Focus, a free online resource filled with effective teaching strategies written by faculty members just like you.
Here are the timely articles you will find in this report:
Alternate Paths to Tenure: Reward Teaching
Simple Commitment but Long-Term Challenge: Promotion and Tenure, and the Scholarship of Teaching & Learning (P&T and SoTL)
Improving Documentation for Promotion and Tenure
Revising Workload, Promotion, and Tenure Policies for Online Faculty
Rethinking Scholarly Publication for Tenure
Collegiality as Selection Criterion in the Search Process
Faculty Expectations Regarding Personnel Decisions
Faculty and Administrators Collaborate on Personnel Decisions