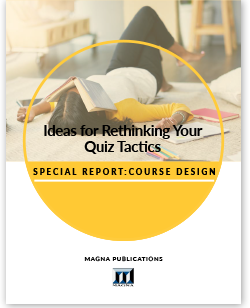 Not all quizzes are created equal. A pop quiz slapped down on the desks of seemingly unprepared students will ratchet up the stress levels and may make a point, but it doesn't promote deep, lasting learning. Fortunately, quiz strategies continue to evolve and faculty across a variety of disciplines have developed innovative approaches for how they use quizzes.
Ideas for Rethinking Your Quiz Tactics features 15 articles curated from The Teaching Professor and Faculty Focus that will arm you with quiz alternatives that promote deeper engagement with the content, further the development of important learning skills, and provide teachers and students with relevant feedback that promotes learning.
This special report is free when you sign-up for Faculty Focus, a free online resource filled with effective teaching strategies written by faculty members just like you.
Articles in the 20-page report include:
Five Types of Quizzes That Deepen Engagement with Course Content
An Innovative Quiz Strategy
A Quiz that Promotes Discussion and Active Learning in Large Classes
Multiple-Choice Tests: Revisiting the Pros and Cons
A Quiz Design that Motivates Learning
Formative Assessment: The Secret Sauce of Blended Success
Making the Pop Quiz More Positive
Four Assessment Strategies for the Flipped Learning Environment
A Quiz or the Hat Trick?
The Unquiz: An Enjoyable Way to Jog Students' Memories
Online Quiz Formats: Do They Matter?
Ungraded Quizzes: Any Chance They Promote Learning?
Using Quizzes to Improve Students' Learning