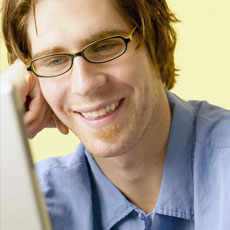 CURRENT ARTICLE • April 22nd, 2014
By: Kelly Grattan, PhD in Online Education
The online learning environment, no matter how robust the platform, does not fully address the isolation many students feel. This environment can be especially isolating for doctoral students. In traditional programs, particularly those with cohort models, students engage with one another through their courses, and many form groups and lasting friendships. Groups might meet or communicate on a regular basis to share their progress; edit/proofread dissertation drafts; solicit ideas, strategies, and advice; and even to vent about their challenges, frustrations, and lack of sufficient progress. Students with shared research interests, albeit rare in small cohorts and interdisciplinary programs, are even more fortunate to form this bond.
OTHER RECENT ARTICLES
---
By: Rocky Dailey, EdD in Teaching and Learning
As a college student, I was rarely the first to raise my hand or respond to a question posed during class. I was shy by nature and always felt like I had little to offer. There were times, however, that I would interject simply to break the long silence after the instructor asked a question. In those cases, the silence was either too uncomfortable to bear or I figured that my response would be no worse than anyone else's. There was also the threat of a pop quiz or some other academic challenge looming for the unresponsive class, which included students who obviously either did not know the content or had not read the assignment. I believe this is an experience all college students have faced at one time or another.
---
By: Joseph W. Trefzger, PhD in Effective Classroom Management
In "Good Teaching as Vulnerable Teaching" (The Teaching Professor, December 2012), Rob Dornsife of Creighton University invites us to embrace the uncertainties teachers encounter. The article prompted me to invite colleagues also to embrace being strict when the conditions warrant it.
---
By: Maryellen Weimer, PhD in Teaching Professor Blog
That was the question, followed by, "Are they students who want to take over the classroom?" "No," I replied, "it's about how students approach learning—motivated, confident, and ready to tackle the task."
---
By: Louise Sharrar and Paula Bigatel in Online Education
The rapid growth and popularity of online learning is necessitating the creation of online courses that actively engage learners. Research has shown that effective integration of multimedia that is content relevant and pedagogically sound can be a valuable teaching tool for facilitating student learning (Mandernach, 2009).
---
By: James Kowalski in Faculty Development
The past 10 years have witnessed some massive growing pains in education. Nearly all aspects at all levels have been touched by efforts to reform in an attempt to create meaningful learning opportunities for today's students. New tools, skills, approaches, and media have redefined the way we create those experiences, and educators who don't learn and engage in them will see themselves become increasingly irrelevant. In short, faculty development now more than ever is necessary to an institution's viability.
---
By: Maryellen Weimer, PhD in Teaching and Learning
Students don't like cumulative exams—that almost goes without saying. They prefer unit exams that include only material covered since the previous exam. And they'd like it even better if the final wasn't a comprehensive exam but rather one last unit test. But students don't always prefer what research shows promotes learning and long-term retention, and that is the case with this study of the effects of cumulative exams in an introductory psychology course.