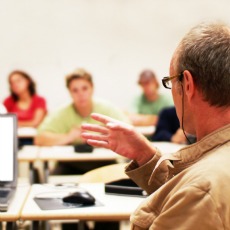 CURRENT ARTICLE • April 18th, 2014
By: Joseph W. Trefzger, PhD in Effective Classroom Management
In "Good Teaching as Vulnerable Teaching" (The Teaching Professor, December 2012), Rob Dornsife of Creighton University invites us to embrace the uncertainties teachers encounter. The article prompted me to invite colleagues also to embrace being strict when the conditions warrant it.
OTHER RECENT ARTICLES
---
By: Maryellen Weimer, PhD in Teaching Professor Blog
That was the question, followed by, "Are they students who want to take over the classroom?" "No," I replied, "it's about how students approach learning—motivated, confident, and ready to tackle the task."
---
By: Louise Sharrar and Paula Bigatel in Online Education
The rapid growth and popularity of online learning is necessitating the creation of online courses that actively engage learners. Research has shown that effective integration of multimedia that is content relevant and pedagogically sound can be a valuable teaching tool for facilitating student learning (Mandernach, 2009).
---
By: James Kowalski in Faculty Development
The past 10 years have witnessed some massive growing pains in education. Nearly all aspects at all levels have been touched by efforts to reform in an attempt to create meaningful learning opportunities for today's students. New tools, skills, approaches, and media have redefined the way we create those experiences, and educators who don't learn and engage in them will see themselves become increasingly irrelevant. In short, faculty development now more than ever is necessary to an institution's viability.
---
By: Maryellen Weimer, PhD in Teaching and Learning
Students don't like cumulative exams—that almost goes without saying. They prefer unit exams that include only material covered since the previous exam. And they'd like it even better if the final wasn't a comprehensive exam but rather one last unit test. But students don't always prefer what research shows promotes learning and long-term retention, and that is the case with this study of the effects of cumulative exams in an introductory psychology course.
---
By: Maryellen Weimer, PhD in Teaching Professor Blog
The March 12, 2014 post raised issues about those students who really don't want to work with others in groups … "lone wolves" as they're called in the literature. Your responses raised a number of issues. I thought it might be worth exploring some of them a bit further.
Many of the comments defended the lone wolves, pointing out that their good academic performance could be compromised by having to work in a group. Did anyone comment about those social learners (whose existence is also well documented in the research) who do well working in groups? We require those students to spend time listening and learning alone, experiences that potentially compromise their academic performance.
---
By: Joan Thormann, PhD. in Asynchronous Learning and Trends, Online Education
Sustained, high-quality student participation usually doesn't happen on its own in the online learning environment. The instructor needs to model participation, create assignments that encourage it, and foster an environment that supports it. Here are some ways that I promote student participation in my online courses.