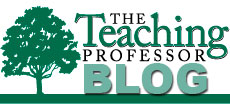 CURRENT ARTICLE • May 22nd, 2013
By: Maryellen Weimer, PhD in Teaching Professor Blog
It's that time of the year when end-of-course ratings and student comments are collected. When the feedback arrives, the quality often disappoints—and if the feedback is collected online, fewer students even bother to respond. Most of the comments are dashed off half thoughts, difficult to decipher. Complaints aren't accompanied with constructive suggestions. Yes, some do say really nice things, but others sound off with pretty awful comments. However, I don't think students are entirely at fault here.
OTHER RECENT ARTICLES
---
By: Emily A. Moore in Teaching with Technology
From Web-enhanced face-to-face courses to MOOCs, flipped, blended, and fully online courses, videos are an integral component of today's educational landscape—from kindergarten all the way through higher education.
---
By: Maryellen Weimer, PhD in Teaching and Learning
Motivation—there are two kinds: intrinsic, which involves doing something because we want to do it, and extrinsic, which is doing something because we have to do it. A negative relationship exists between the two. Extrinsic motivation undermines intrinsic motivation. Students won't be attending class because they want to if attending class is required. As a result of this negative relationship, students don't have much intrinsic motivation because it's been beaten out of them by most extrinsic educational experiences. And that's a nutshell version of how most teachers understand motivation.
---
By: Rob Kelly in Academic Leadership
If some faculty do not fully embrace their role as academic advisor, don't assume that they are indifferent to students' needs or feel that advising is strictly a student affairs function. More likely, this reluctance is due to a lack of preparation and support.
---
By: Maryellen Weimer, PhD in Teaching Professor Blog
It's probably the question I'm most asked in workshops on learner-centered teaching. "What are some good places to start? My students aren't used to learner-centered approaches." Sometimes the questioner is honest enough to add, "and I haven't used many previously." Before the specifics, here's some general recommendations: start slowly (for example, don't add 14 learner-centered strategies to a mostly lecture course); try simple, reasonably straightforward activities first; and define success before implementing the activity. As for those "good places" to begin infusing your teaching with learner-centered strategies, here are some approaches to try.
---
By: Mary C. Clement, EdD and Katherine Whatley, PhD in Teaching and Learning
Today's college instructors are expected not only to be engaging in their classes, but to engage students outside the classroom. Whether it's supervising service-learning, taking students to professional conferences, leading study sessions in coffee houses, or inviting students into our homes, faculty are now expected to be with students in ways that change the kinds of relationships teachers and students have in the classroom. Teachers now interact with their students in a variety of contexts, many of them informal and some of them purely social. These new roles blur the line between being friendly toward students and being a friend of students. This matters whether you've been teaching for a while and no longer look like a student or whether your academic career is just starting. All faculty need to know how to build supportive and positive, but businesslike, relationships with students.
---
By: Oliver Dreon, PhD in Online Education
You've been assigned your first online class to teach and you feel like you're ready. You've done your homework and learned the ins and outs of the institution's course management system. You've structured your content in purposeful ways and developed thoughtful guiding questions to situate student learning and motivate them. When the class starts, however, you realize that while everything is technically functioning correctly, many of the students are not engaged. While you were looking forward to teaching online and interacting with students, the students are approaching your course as if it's an independent study. This wasn't what you anticipated when you agreed to teach online!