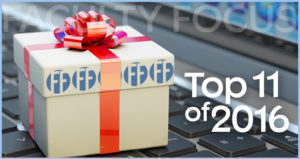 It wouldn't be the end of the year without a few top 10 lists. As we prepare to put 2016 in the rearview mirror, we're offering up our own list, which goes to 11.
Throughout 2016, we published more than 200 articles. The articles covered a wide range of teaching and learning topics, including diversity and inclusion, critical thinking, peer feedback, assignment strategies, course design, flipped learning, online discussions, and grading policies.
In this post, we reveal the 11 articles that most resonated with our readers. Each article's ranking is based on a combination of factors, including e-newsletter open and click rates, social shares, reader comments, web traffic, reprint requests, and other reader engagement metrics.
Read More »