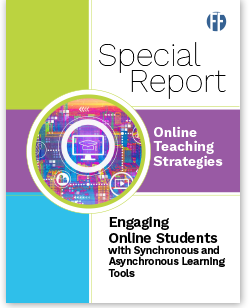 In a face-to-face class, students have numerous opportunities to interact with their instructor and fellow students. Creating similar opportunities for collaboration in a web-based course is one of the biggest challenges of teaching online.
This free special report, Engaging Online Students with Synchronous and Asynchronous Learning Tools, will provide you with practical advice from educators who have found effective ways to promote learning and build a sense of community in their online courses.
This report is free when you sign up for Faculty Focus, a free newsletter with effective pedagogical techniques to bring with you to both the classroom and online!
Here are just some of the articles you will find in Synchronous and Asynchronous Learning Tools: 15 Strategies for Engaging Online Students Using Real-time Chat, Threaded Discussions and Blogs:
Active Learning for Asynchronous Online Learners
A Discussion About Online Discussion
Creating Accessible Video for the Online Classroom
A Plan for Effective Discussion Boards
Evaluating Discussion Forums for Undergraduate and Graduate Students
Enhancing Online Course Discussions Through Conference Roles and Blogs
Five Suggestions for Equitable Online Facilitation
Coaching Strategies to Enhance Online Discussions
What We Can Learn from Unsuccessful Online Students
What Research Tells Us About Online Discussion
Open-Source Blog Platform Provides Much-Needed Communication Flexibility