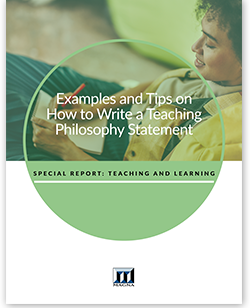 For most educators, writing a philosophy of teaching statement is a daunting, even unpleasant, task. Sure they can motivate the most lackadaisical of students, juggle a seemingly endless list of responsibilities, make theory and applications of gas chromatography come alive in lecture, and find time to offer a few words of encouragement to a homesick freshman, but when it comes to articulating their teaching philosophy… suddenly they're unsure where to even start.
This free report makes navigating the uncertain waters of writing a philosophy of teaching statement a tad easier to steer.
This special report is free when you sign-up for Faculty Focus, a free online resource filled with effective teaching strategies written by faculty members just like you.
Articles Include:
How to Write a Philosophy of Teaching and Learning Statement
Does Your Teaching-Learning Philosophy Align with Your Teaching?
Teaching and Advising Philosophy and Style
My Teaching Philosophy: A Dynamic Interaction Between Pedagogy and Personality
A Stupid Letter to My Student
Education as Becoming: A Philosophy of Teaching
My Teaching Philosophy: Make Learning Fun
Teaching Philosophy and Assumptions
Teaching Philosophy Statements Prepared by Faculty Candidates
Writing the "Syllabus Version" of Your Philosophy of Teaching
Writing a Teaching Philosophy Statement: Why, What, and How