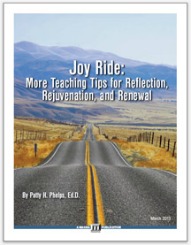 It's a gradual process, but at some point, if we're not careful, all the courses, students, and semesters begin to add up and slowly erode our enthusiasm for the classroom. We become physically and emotionally spent, our teaching grows tired.
If you've lost your joy of teaching and want to get it back, this ebook offers practical tips for becoming and staying excited about teaching again.
In her previous ebook, Journey of Joy: Teaching Tips for Reflection, Rejuvenation and Renewal, author Patty Phelps shared her experiences as a veteran teacher on the road to burnout, and how she regained her joy of teaching. The response to Journey of Joy was overwhelming. With nearly 30,000 people downloading it from our site, clearly faculty are looking for ways to maintain their instructional vitality.
In Joy Ride: More Teaching Tips for Reflection, Rejuvenation, and Renewal, Phelps offers more anecdotes and practical tips for getting and staying engaged, enthused, and excited about teaching. This special 22-page ebook is divided into 17 sections, each with its own set of tips for strengthening one's commitment to teaching. The sections include:
School Year Resolutions
Joyful Treasures
The Ladder Matters
Souvenirs of Teaching
Avoidable Potholes
Priceless Words
Touch the Thermostat
Motivation Magic
Wear Purple Shoes
If you liked Journey of Joy, you'll love Joy Ride. Download your copy now and you'll be on your way to more joyful teaching.
Join the Faculty Focus community for full access to all our special reports!
Faculty Focus contains a wealth of valuable material on all of the key issues that matter to today's top faculty and administrators. It's packed with strategies, tips, and other information you can use on the topics that impact your students, your school, and your work, including:
Student Engagement
Instructional Design
Online Education
Classroom Management
Educational Assessment
Teaching with Technology
Faculty Development
Curriculum Development