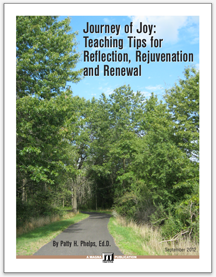 This publication is about pursuing a joyful journey in college teaching. Part memoir and part advice for others, it is meant to encourage and inspire faculty who may have fallen out of love with teaching.
The thrill is gone makes for a great blues song, but it also can be an accurate, albeit unfortunate, description of how experienced teachers may sometimes feel.
Patty H. Phelps, EdD knows what it's like. A few years ago, she says, her teaching life had reached what felt like a dead end. She would see articles in her local newspaper about faculty who were retiring and longed to be one of them. At the time, she was "going through the motions" and had definitely lost her joy of teaching.
Today Phelps, a professor at the University of Central Arkansas and director of the Instructional Development Center on campus, has her joy back. In Journey of Joy: Teaching Tips for Reflection, Rejuvenation and Renewal she shares her experiences and offers advice to guide others to more joyful teaching. From building connections with students in new, unexpected ways to celebrating even minor victories, the ebook is loaded with practical tips for keeping your teaching fresh and invigorated.
She writes: "We often hear the advice of 'focus on the students.' But, what exactly does this mean? I have found that it involves first getting the focus off self. However, it also entails giving of myself—my creative energies, my thought processes, my time and attention, and my expertise. I am pleased to report that my teaching joy has been restored."
Teaching and learning reflections for college faculty
This 32-page ebook is divided into 21 sections, each with its own set of tips for getting out or staying out of a teaching rut. The sections include:
The Meaning of J.O.Y.
Looking in the Mirror
Joy Zappers
Joy Boosters
Make It Authentic
The Golden Triangle of Teaching
"Can We Go Outside?"
Unexpected Delights
Two Lessons from Daddy about Teaching
"A" for Advising
As a student of teaching for 35 years, Phelps offers her personal perspectives as a means to help others find joy along the way, too. For the past three years she has led a standing-room-only session on joy in teaching at the annual Teaching Professor Conference, inspiring her to create this written work to share with an even larger audience.
Join the Faculty Focus community for full access to all our downloadable reports!
Faculty Focus contains a wealth of valuable material on all of the key issues that matter to today's top faculty and administrators. It's packed with strategies, tips, and other information you can use on the topics that impact your students, your school, and your work, including:
Student Engagement
Instructional Design
Online Education
Classroom Management
Educational Assessment
Teaching with Technology
Faculty Development
Curriculum Development
Trends in Higher Education
And much, much more.