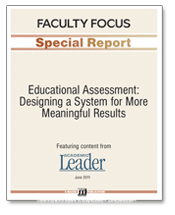 Assessing institutional effectiveness is a noble pursuit, but measuring student learning is not always easy. As with so many things we try to quantify, there's much more to learning than a number in a datasheet.
When it comes to assessment. Sometimes there are more questions than answers, even after you get the results.
How do you define success?
How do you know what your students are learning?
Are you happy with your assessment results?
Will you use the results to bring changes to learning goals, curriculum, teaching methods, and perhaps the assessments themselves?
This special report is free when you sign-up for Faculty Focus, a free online resource filled with effective teaching strategies written by faculty members just like you.
Articles included:
Counting Something Leads to Change in an Office or in a Classroom
An Accountability Program Primer for Administrators
An Effective Approach to Generating Questions for Guiding Program Assessment and Reform
The Dash to Dashboards
Collaborating on Rubric Development: A Work in Progress
Surviving Your Regional Accreditation: A Tongue-in-Cheek Reflection
The Faculty and Program-Wide Learning Outcome Assessment
Assessing the Degree of Learner-Centeredness in a Department or Unit
Keys to Effective Program-Level Assessment