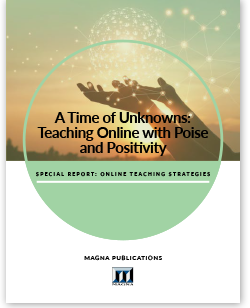 This transition in education has not been easy. It has been abrupt and filled with uncertainty, but the resiliency of instructors, students, and institutions around the world has filled online education with new life and positivity.
This free special report, A Time of Unknowns: Teaching Online with Poise and Positivity, includes a memo to students during troubling times, solutions to online discussion problems, strategies to reduce cheating on online exams, and why it is so important to say "goodbye" to your students in times of uncertainty.
This report is free when you sign up for Faculty Focus, a free newsletter with effective pedagogical techniques and advice from teachers around the world.
You'll find the following articles in this free report:
A Memo to Students as the New Semester Begins
A Reflection on the Sudden Transition: Ideas to Make Your Synchronous Online Classes More Fun
Transforming Your Lectures into Online Videos
When the Tide Goes Out: Identifying and Supporting Struggling Students in Online Courses
Solutions to Online Discussion Problems
Like the Phoenix: Finding New Life in an Online Course
Keep Calm and Redesign with Perspective
Fourteen Simple Strategies to Reduce Cheating on Online Examinations
Teaching in Troubling Times
Taking Your Classes Online in a Flash
The Importance of Saying Goodbye to Your Students in Times of Uncertainty