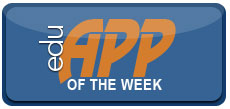 | | |
| --- | --- |
| Product | Sketch Pad (Catalystwo Limited) |
| Category | Sketching |
| Overview | An excellent sketching app that can serve multiple purposes. |
| Learning Curve | Very easy to use. |
| Rating (5 star scale) | Chock full of nice features. |
| Cost | $.99 |
The Sketch Pad program is a must for several reasons: it is very easy to use, has several features, and it is very nicely priced. All of the tools can be controlled from their home location at the bottom of the screen or be made to float and positioned anywhere they are convenient.
I use Sketch Pad as a sort of Whiteboard but I wish it had a selection feature for 'an erase all' function. There is, however, a workaround for fast erasing: pinch the image to the smallest size possible and a few passes with the eraser will clean up the board rather quickly.
Sketch Pad uses the standard pinch-in, pinch-out gesture for zooming in and out. There are four pen size options, a color swatch that is customized by simply double-tapping one of the primary colors, and there are lots of emoticons that can be added to your drawing. The program has a selectable palm rest that can be positioned on the bottom right or left, or it can be resized to your liking. There is also a track pad that can be used to position the image anywhere on the canvas.
Like all iPad apps, Sketch Pad allows you to e-mail and print your creation. You also can save your canvas as a photo to the photo library, or send it any of several other apps. The preference is chock full of options from Autosave, spell-check and Geotagging, to synching to the cloud with Dropbox, iCloud, Google Docs, Evernote, etc.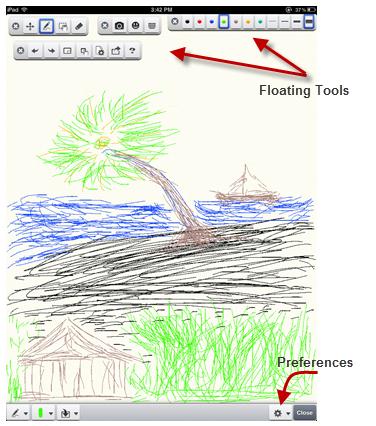 A free version of Sketch Pad called Sketch Pad 3 is available and it appears to pretty much do most of what its $.99 brother/sister will do with one exception: Sketch Pad 3 has an advertisement banner running at the top that some of you might find distracting. There are two ways to deal with this: 1. Turn off your Wi-Fi and the banner will disappear. 2. Place the floating tools on top of the ad banner to cover it up.
Summary:
I like this program a lot and I think you will to! From drawing simple sketches, to doodling, or creating annotated drawings, I think you will agree that the program has just about everything you will ever want. Catalystwo Limited, the designers of Sketch Pad and Sketch Pad 3 also offer two other sketching programs: FastFinga ($1.99) and Fast Finga 3 ($2.99). Other similar available apps are: Drawing Pad ($1.99); Sketch Pad HP ($0.99); and SketchBook Pro for iPad ($4.99). One last thing: you will be productive with Sketch Pad in no time because using it is as easy as 1, 2, 3.

Dave Yearwood is an associate professor and chair of the technology department at University of North Dakota.