It's what is considered dead week—the week before final exams. Most of my students are exhibiting familiar signs of stress, looking tired and overwhelmed, and retreating to their phones between classes. But some of my students are smiling and relaxed as we walk back onto campus from our nature walk. They are chatting with each other and saying things like, "I needed that," and, "Now I can make some progress." I feel better, too, enjoying the walk myself and appreciating that my students are demonstrating better health and focus because of this opportunity.
These improved learning outcomes are not accidental. A year ago, increasing concern for my students and their stressed-out, screen-dominated lives led me to research articles such as, What are the benefits of interacting with nature? (Keniger, et al., 2013). This particular article described my students: anxious and distracted individuals missing the powerful, stress-reducing and cognitive-enhancing therapeutic effects of being in natural spaces. Many of my students also lacked outdoor experiences growing up and saw nature as dangerous or dirty.
I teach Information Technology at a college, so I could not make regular outside activity part of their course work. Instead, I needed to create optional activities that met student needs and drew them outside. Students need social interaction and they need to feel good about themselves, so an outdoor encounter with nature should have a fun, social component, and it should give students the feeling that they are part of something altruistic and bigger than themselves (Asah & Blahna, 2013).  Given this research, I thought a weekly lunchtime walk through a nearby natural space that included a brief, interactive activity while picking up litter on the way should meet the following student needs: reduce student stress and increase student health and focus. Comments from my students as we returned from our Wednesday Walks confirmed that these positive effects were being felt. My hope is that the same can be true for your students, too.
How can we as faculty facilitate student encounters with nature?
Increase student awareness: Discuss with students the benefits of time in nature to reduce stress and increase focus and health. Include references to such research into your lesson plans where appropriate. Display informational and motivational posters promoting the value of getting outside in nature. (I find that when the day is beautiful and the lesson allows it, teaching a session outside ignites the desire to be outside.)
Schedule opportunities that are convenient and effective for students: I found that lunch time on Wednesday was the most convenient timefor my students. A short, accessible walk with a brief interactive learning experience was a convenient and effective activity. Our campus is small, so a nearby park was the most convenient natural space.
Promote opportunities to get outside: Routinely making in-class announcements and posting the topic or activity of the week have been effective reminders for my students. You can partner with outdoor or conservation student groups on campus if you have them, or utilize campus news and promotional outlets to expand your audience to other departments. I found that inviting fellow employees who could benefit from lunchtime walks and walking meetings was also helpful in building a critical mass of walkers.
Host your outdoor activities: Help students be fully present in nature by finding things for them to see and experience. I pre-walk the route earlier in the week to spot interesting things that change in nature and can be highlighted during the walk like buds, berries, nests, tracks, flowers, insects, lichen, or mushrooms. The more you look, the more you see. For your walk, bring gloves and a garbage bag for litter pickup along the way to give students the feeling they are doing something positive. Walk an easy, accessible route to and through the natural space. Facilitate a simple interactive learning experience, and head back on time.
Lessons learned
The weather has a powerful effect on student turnout. That sounds obvious, but when I started hosting walks, I eagerly showed up every Wednesday regardless of weather. I hosted large groups in the spring but steadily fewer students in the fall as sunshine gave way to winter rain. To avoid discouragement, I decided to be happy walking alone on days no one showed up and to remember that our walks are building lasting life skills in students as they associate natural spaces with health, peace, and joy. I have been surprised at the number of positive comments I have received from students about the Wednesday Walks through the winter months.
Lessons built
Mini lesson plans and promotional materials can be found in my open source archive and are free for anyone to use or modify. (bit.ly/wednesdaywalks)
Many of our students are increasingly suffering from a lack of connection to nature in their lives. Initiatives like Washington State's No Child Left Inside are springing up around the country to help address this growing problem, but these initiatives can only begin to meet the need. My hope is that faculty who see the value of nature in our students' lives can directly help through activities like our Wednesday Walks.
---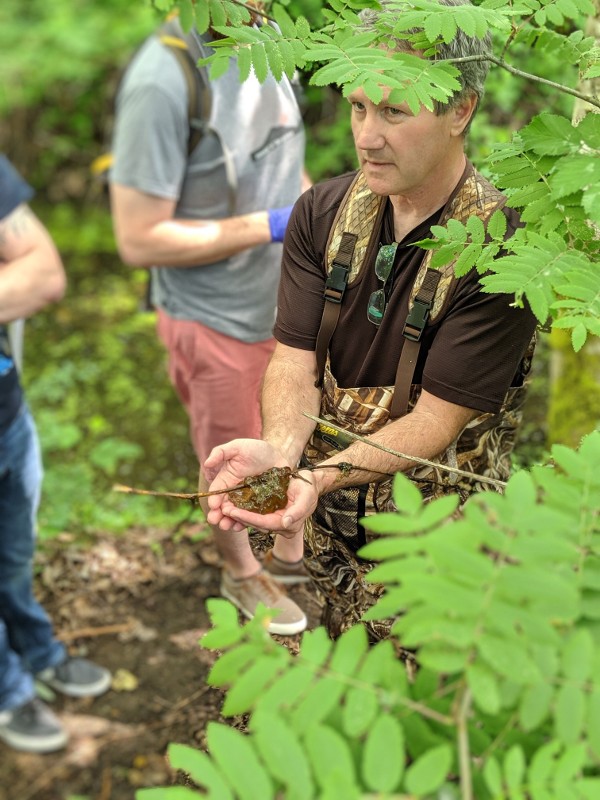 Mike Massey is an information technology faculty member at Bellingham Technical College. Massey helps with marine mammal strandings and amphibian surveys in his community and is a graduate student in Miami University's Advanced Inquiry Program.
References
Asah, S. T., & Blahna, D. J. (2013). Practical implications of understanding the influence of motivations on commitment to voluntary urban conservation stewardship. Conservation Biology, 27(4), 866-875.
Keniger, L. E., Gaston, K. J., Irvine, K. N., & Fuller, R. A. (2013). What are the benefits of interacting with nature? International journal of environmental research and public health, 10(3), 913-935.
Washington State Parks. (2020, March 7). No child left inside program. Washington State Parks. https://parks.state.wa.us/972/No-Child-Left-Inside