You just submitted grades and you're getting ready to teach again. You remember how your classes went, but each time you start planning, you wonder what your students thought about your class, what they learned, and how you might teach it better. However, other than mulling over the university's student evaluations, you don't have much to work with. You don't have honest, realistic, and helpful student feedback to guide you.
The good news is that you don't have to allow this process to repeat itself. If you want to gather student feedback to improve your course—such as students' perceptions of the course curriculum, course organization, classroom climate, their learning, and your pedagogy—you have many options. For a variety of strategies, visit here and here.
Over the past five years, I've explored multiple ways of gathering student feedback to improve my course. Here are my top three:
1. Give surveys
Anonymous online surveys are one of the best ways to gather students' perceptions of their professor and their own learning experiences. I often give students a survey in the middle and at the end of the semester, so I can tailor questions to specific activities. My guideline is to start with four (or less) rating questions to generate numerical data. Here's a snippet from my May 2020 student survey: "On a scale of 1-5, how helpful were the weekly videos in connecting you to the class material?" and "What do you think about the workload in ENG 216 after going online?" If you are using Google forms as a platform, which I recommend, the responses are summarized in data tables and charts for easy analysis (see visual below).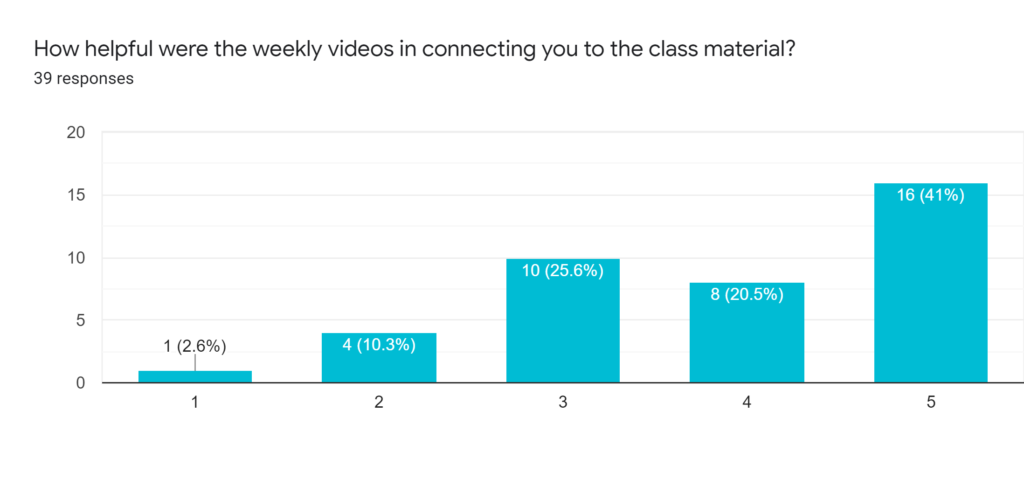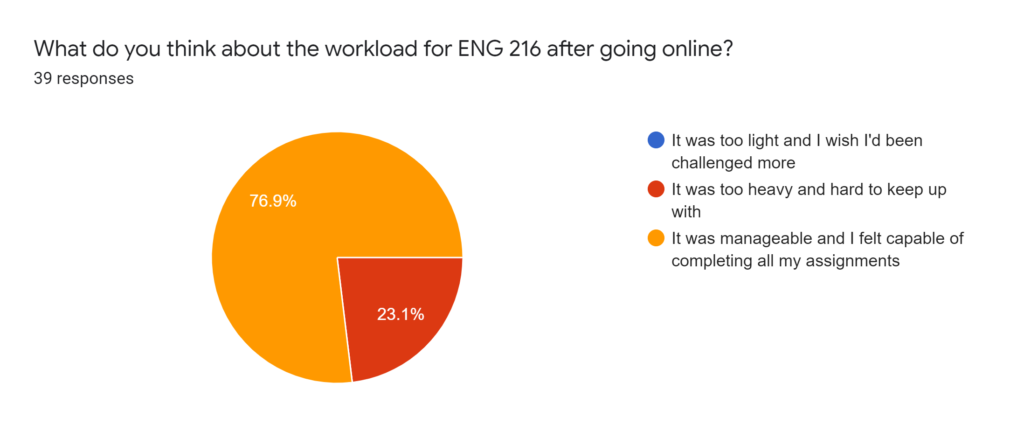 I also include one open-ended question at the end of the survey to hear students' point of view. I ask: "In the space below, please share what elements of the course you found to be helpful or unhelpful. Your input will help me improve this course." I received 39 responses, and suggestions like the following are very useful to my course planning: "Put out more reminders since everything is online now," "The whole system with Eli [a peer feedback online platform] got repetitive," "Forums were really great to keep in touch with everyone, but responding to three people got a little bit redundant," "I found the weekly videos to be especially helpful because if I missed a Zoom session, I could still catch up," and "If I were to give some advice, jot down the names of the people who attended Zoom and give them attendance points." These responses from students ask for small changes that can make a big impact.
To ensure you are receiving authentic student feedback, place a statement at the top of the survey stating its anonymity: "This survey response is anonymous, please don't share your identity." And, if you want students to complete the survey, keep it short, don't exceed five questions, and avoid giving more than two surveys per semester.
2. Initiate a small group instructional feedback (SGIF) session
Using SGIF, professors will get a general checkup report, like an "after visit summary" from the doctor's office. Having a SGIF session is when a facilitator (often another faculty member) and a recorder visit your class while you step out, and it is often initiated as a mid-semester check-in so there's enough time to implement positive change for the remaining semester; however, I've done SGIF sessions at the end of the semester and still generated useful feedback for future course planning. The purpose of SGIF is for the facilitator to gather information from students about their learning experience in your course. Students are placed in small groups and asked to free write and then discuss these questions (or some version of it): "What about this course has been most helpful to your learning?"  and "What specific changes could the instructor, my classmates, and I make to improve my learning in this course?"
While the facilitator leads a whole group discussion, the recorder takes notes (all anonymous), which are later shared with you at the debrief, at which time teaching strategies are also discussed. Now, you will have a report of what students see as problematic or valuable and what concrete suggestions they offer for improving the course.
3. Conduct a focus group
Focused groups are often used for market research to assess a new product, but this technique can be retooled to assess the overall wellness of the class. Contrary to SGIF, the discussion in focus groups is facilitated by the professor (though a TA or outside person could facilitate). Focus groups could be initiated at any point in the semester, but I usually conduct it on the last day of class during our class party. I have students form a group of four to five to discuss three questions amongst themselves: How could this course be improved for next semester? What assignments should be kept? What assignments should be modified or deleted? Then, after 15 minutes of group chatting and notetaking, a reporter from each group reports their feedback aloud while I record on the board. When someone has a suggestion for improvement, I ask how many agree, and if there's majority agreement, I ask what that change might look like. We then spend time designing this new idea together. I write all of this on the board and snap photos for my records.
Now that I've shared my top three strategies for gathering student feedback, what improvements do you want to see in your course? How might you consider getting feedback to target those improvements?
---
Crystal O. Wong, EdD, grew up in San Francisco, California. Dr. Wong began her teaching career in the San Francisco Unified School District as a K-5 music, literacy, and classroom teacher, where she taught for 5 years before starting a second career at San Francisco State University, where she has been teaching composition for 13 years in the Writing Program. She is also a Faculty Fellow on Reflective Practices in the Center for Equity and Excellence in Teaching and Learning (CEETL) at SF State.
References:
Diamond, Miriam Rosalyn. "The usefulness of structured mid-term feedback as a catalyst for change in higher education classes." Active Learning in Higher Education 5, no. 3 (2004): 217-231.
Mandouit, Luke. "Using student feedback to improve teaching." Educational Action Research 26, no. 5 (2018): 755-769.