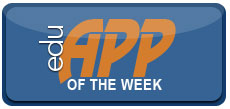 | | |
| --- | --- |
| Product | GoFlex (Seagate) |
| Category | Productivity |
| Overview | Wireless access to data on an external drive. |
| Learning Curve | Surprisingly easy |
| Rating (5 star scale) | Finally, easy access to portable external storage, 500G worth, without cables—no power cable and no wired connection to the iPad! |
| Cost: | Free app; drive costs $199.99 |
What is the biggest frustration you have with your iPad? Oops, forget that I ever asked that question! Really, I think most individuals like their iPads. However, there are just a few things we all wished that Apple would include on the iPad, like a USB port to give us access to our 'stuff.' Everyone has, at some time, experienced one or two things on portable devices: 1. You never have enough memory, or 2. Your data is not all in the same place! For iPad users, unless you have access to cloud storage, there really is no convenient way (outside of using iTunes on your computer) to get data into your iPad to work on because of the lack of a slot or port that will allow you to access external storage units.
Well, the latter is history with Seagate's GoFlex Satellite. With the GoFlex powered wireless external hard drive (and its accompanying free app) you simply power up the drive, select it from the list of available wireless devices in your iPad, and you now have access to all of your data! Nothing could be more simple! The 500 G drive cost $199.99, and to me, this is well worth the price given that plug in drives can run $120.00 or more.
I have been using GoFlex for about two weeks now and it has become one of the best technologies I have purchased because it does double duty: It allows me to take my data with me to and from the office and it keep the data updated on my home machine. Yes, I know about and use cloud storage, but I really do not like having all of my 'stuff' out there somewhere. Additionally, there have been times when I did not have wireless access and this was very frustrating. There are numerous work arounds, like using my smart phone or a mifi unit but I always have my portable drive with me and GoFlex just made things that much easier.
Once you purchase the GoFlex drive, you'll want to download the GoFlex Media app is available in the iTunes store or Google Play. You should also download 'Seagate Media Sync' from Seagate's support link.
There are really two options for synching your data with GoFlex Satellite and both options require that the drive be connected to your computer. Seagate's Media Sync also has an automatic feature for synching your data that is a really nice touch and is very fast even with USB 2.0 (data transfer is much faster with USB 3.0). Alternatively, you can turn on/off the automatic sync if you prefer doing it manually. The other sync option is to use 'SyncToy' (free) from Microsoft which I have been using for a long time now to sync data on my portable drives. Both sync operations require some initial setup but once this is completed syncing works flawlessly.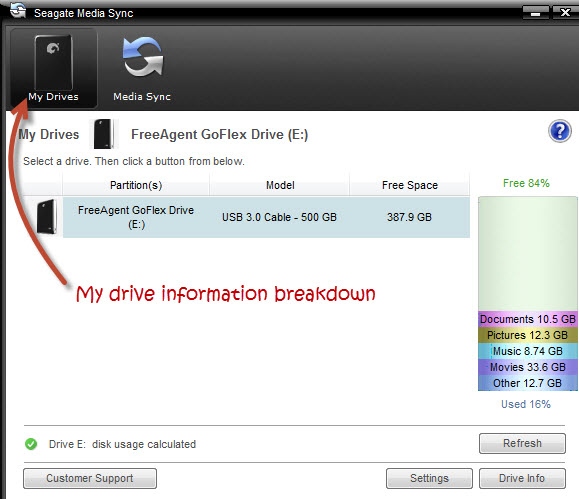 Seagate Media Sync screen on a Windows PC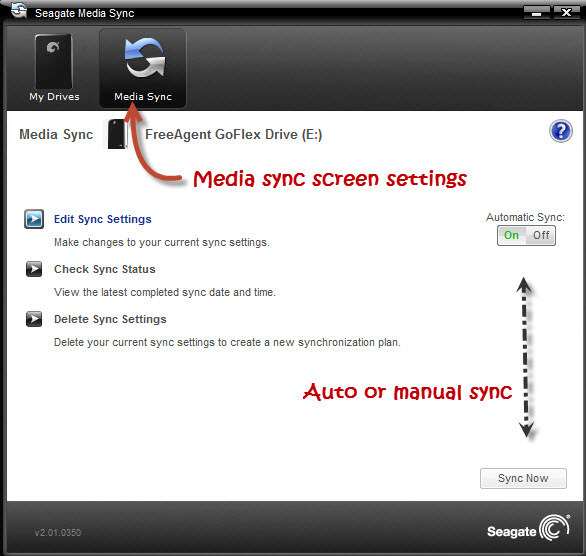 Select media sync screen settings
I wanted to see how well GoFlex would handle streamed video content so I cued up three different videos on two iPads and an iPod touch to be streamed from GoFlex simultaneously and I was pleasantly surprised to see that there was no lag or picture quality deterioration! One thing to keep in mind, however; you will be limited to playing video files supported by the iPad and as a result, you may need a video converter to play non Apple supported formats. One additional feature that I really liked is the fact that Seagate allows a pass through to the Internet while being connected to my GoFlex drive—this is really huge because I do not have to disconnect GoFlex in order to access the web!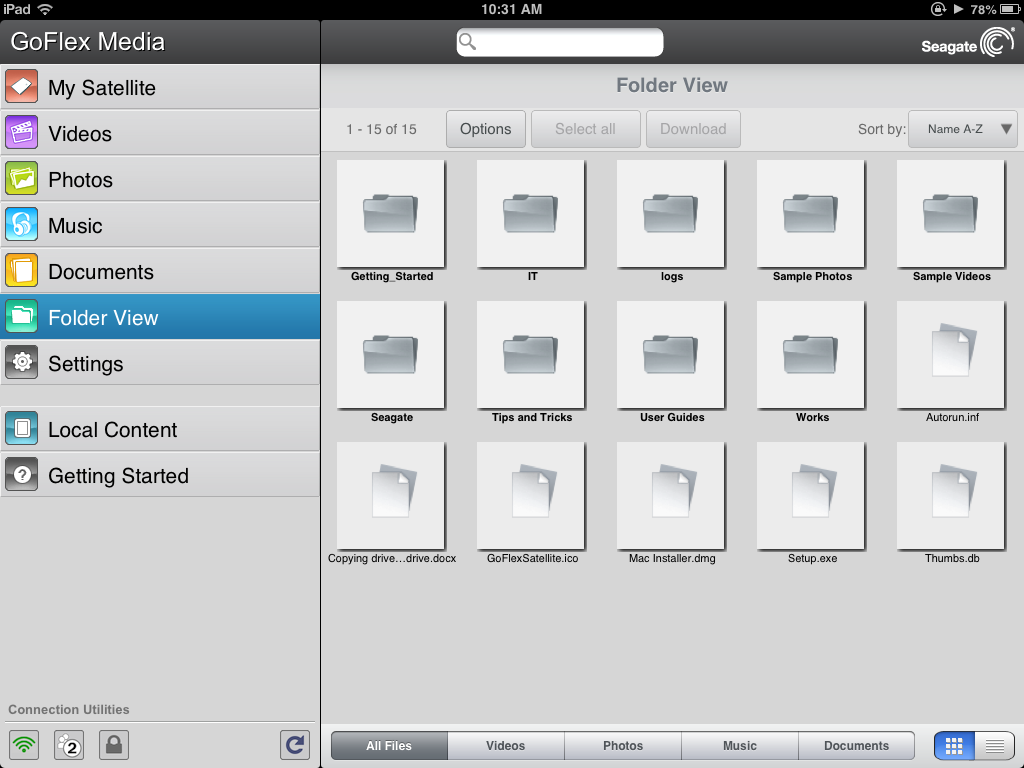 The Seagate GoFlex Media app as seen on the iPad
Summary:
What is there not to like about GoFlex? Not much really, but Seagate might consider using a Solid State Drive (SSD) instead of the traditional platter spin drive since platter spin drives use more energy and there is always the possibility of these drives crashing. Retrieval or access time on the GoFlex was never an issue for me, however, SSDs are faster than platter spin drives and can be bumped without any concerns. It would also be nice to have some kind of battery status information about the remaining charge left on the unit. Seagate claims 5 hours of battery life but I have been able to eke out more than five hours a couple times while working on the unit before I decided to recharge it (granted, I was not tasking the unit a lot). Yes, the initial cost of GoFlex is a bit high at $199.00 but this is well worth the convenience of finally having the one thing I always wanted from my iPad—access to external storage and a device that has a decent form factor—smaller is always better! One last thing; Seagate has a few accessories for the drive which is well worth the investment, e.g. a padded case for the unit with room to hold all of the plug-ins; extra plug-ins; a bumper sleeve to slip over the GoFlex unit, etc.. Well, you now know how I use my GoFlex, what uses do you see for yourself with this unit?
Dave Yearwood is an associate professor and chair of the technology department at the University of North Dakota.