The liberal arts environment demands that faculty show students connections between disciplines. As a political scientist, I often link course topics with economics, history, and sociology, but last summer I realized that I could make linkages with visual art. Because I was soon traveling to Washington, D.C. and New York City, I could take pictures of paintings at the National Gallery of Art and Metropolitan Museum of Art and then utilize them in my Introduction to World Politics classes.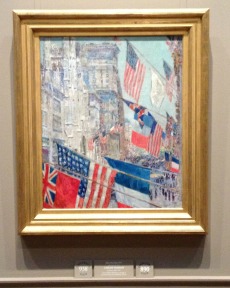 While in these galleries, I found that I could use paintings that showcased political leaders or events, but also make use of artistic methods to convey concepts. Some political scientists have developed courses on art and politics, focusing on propaganda, how art connects with social movements, and how governments promote culture and nationalism. Although I have talked about these subjects, my more limited goals in this endeavor were to enable political leaders to better "come alive" for students, assist students in understanding concepts, and add more color to my PowerPoint slides. For other faculty members—especially historians, political scientists, and sociologists—interested in following in a similar path of using paintings (or other forms of visual art), here are the steps to follow.
First, think about how paintings can introduce leaders. For example, rather than assuming that students know what Napoleon looked like, show one of his portraits. I used Jacques-Louis David's 1812 portrait of Napoleon from the National Gallery of Art. To help convey Napoleon's ego, I showed David's 1807 The Coronation of Napoleon in which Napoleon (not the pope) crowns himself emperor.
Second, consider how paintings can illustrate important events. Since 2013 was nearing the centenary of World War I, paintings that showed nationalism during that time were especially relevant. One painting I used is Childe Hassam's Allies Day, May 1917 from the National Gallery of Art. This painting shows the American flag and allies' flags waving on Fifth Avenue a month after the United States entered the war.
Third, reflect on how paintings might connect with concepts in your discipline. Faculty should not only think about what art illustrates explicitly or implicitly, but how a piece was designed, as well as the medium (oil, watercolor, etc.) used. In my Introduction to World Politics class, a key concept is levels of analysis, defined as the scope to which analysts seek to understand the world whether through the actions of an individual, actions within a particular nation-state, or at the global level of the international system. Conveying the individual, state, and systemic levels of analysis is critical for my course, especially since levels of analysis are employed throughout the textbook. Although I have talked about this concept in many ways, it was while I was going through these art museums that I remembered how a student a few years ago connected levels of analysis—sometimes called micro and macro approaches in other disciplines—to Impressionism and Post-Impressionism.
Thus, I found myself looking at Vincent Van Gogh's What Field with Cypresses (1889) at the Metropolitan Museum of Art and thinking about this student's comment. So, I took photos of the painting from several feet away and up close. I also walked to the side of the painting to photograph the heavy amount of paint Van Gogh applied. I then used these pictures to illustrate that, like levels of analysis, Impressionists and Post-Impressionists called upon viewers to look at their works up close and far away and found that they could see different things. I also showed Claude Monet's 1880 work Île aux Fleurs near Vétheuil from the Metropolitan Museum of Art to ensure that students understood how levels of analysis connected with this particular method of painting.
International relations scholars contend researchers have many choices in which to analyze cause and effect, a "level of analysis problem." Thus, students must be taught that the actions of important leaders can shape history. But they must also learn to widen their scope to focus upon domestic politics within a country as well as the dynamics of the international system. Therefore, I showed students how viewers can back away from works by Van Gogh and Monet and move from seeing individual brush strokes of a particular color to seeing different shapes, and then a beautiful scene.
These are just a few ways paintings can help teach about politics; there are many others. If Cleveland (2014) is correct, infusing art into the classroom will become easier in the future.

Dr. Samuel Lucas McMillan is an associate professor of political science at Lander University in Greenwood, S.C.
Reference:
Cleveland, Carter. (2014). "Cleveland Carter Says Art in the Future will be for Everyone." The Wall Street Journal. July 7. http://online.wsj.com/news/article_email/carter-cleveland-says-art-in-the-future-will-be-for-everyone-1404762157-lMyQjAxMTA0MDEwOTExNDkyWj?tesla=y.