Many faculty aspired to a career in education because teaching, learning, and connecting with students brought joy. Yes, we recognized the work involved would be demanding. But we also got excited about the first day of class, spent inspired-hours crafting new learning activities, and smiled when students we met as first-years came back to connect when they neared graduation. Unfortunately, COVID-19, political unrest, climate change, and economic disruption has affected both us and students. Over the past semesters of teaching through the pandemic, the four of us ended each semester thinking, "That was the hardest semester we've ever had." And now we're anxious about what the next semester has in store. We hope, like us, you are looking for ways to thrive in these difficult conditions that are not going to change anytime soon. If so, we invite you to join us in taking the first steps towards joy, even if joy seems a long way off.
Warm up: Find awe
Awe is the feeling you experience when you encounter something extraordinary. You can find awe in something big, like a crisp, winter night full of stars or in something small, like water dripping off the tip of an icicle. Nature and art are often awe-inspiring. You can also find awe in learning, like the passion that first brought you to your discipline, and in community experiences that connect you with something bigger than yourself. Awe connects you to the vastness of the universe, which can make your own problems and experiences seem less overwhelming. Experiencing awe can also decrease stress (Bai et al. 2021).
Strategies for finding awe:
Go for a walk outside and watch for the unexpected and extraordinary. Bring your phone, but leave the earbuds, email, and texting behind. Find awe and then take a picture. When you return to your office, record or write down how the picture makes you feel.
Reflect on a memory of an awe-inspiring event, perhaps one that occurred while you were teaching. Write or record your experience.
Listen to a piece of music that brings tears to your eyes or causes goosebumps to form.
Explicitly seek out teaching highs and enchanting moments such as the beautiful cacophony of student voices or students seeing one another as knowledgeable, changing their thinking, or discovering new ideas and disciplines.
You can also build this into a short reflection activity for students. Ask them to share photos or descriptions of awe-inspiring ideas they encounter and then begin class with their ideas.
Make learning visible
Hattie recommends that learning be made visible—in fact, he wrote a book about it (Hattie 2008). While learning observations can certainly be used to verify academic learning, learning observations can also help instructors perceive the emotional components of learning that are sometimes overlooked and buoy the instructor's emotional well-being. In noticing student behaviors, you can be encouraged by the small moments such as when students notice they've been paired by common interests, appreciate the energy invested by the instructor to gamify an activity, or show progress of any kind.
Here are a few activities that will allow you to observe student learning more closely and personalize learning events that foster your well-being. They have sustained our teaching by generating positive feelings toward the work we do.
Ask students to complete a ticket out the door prompting them to consider human interactions such as, "What about today's activities spoke to you personally?" "What part of today's activities do you think I planned with you in mind?"
As a class, create a graphic organizer that shows connections among course topics.
When students break into small groups, listen in on the conversations instead of retreating to your computer. Hearing students authentically communicate can be inspiring and give you insight into their thoughts and feelings about the course.
Invite joy
Keeping with the emphasis on compact but valuable additions to your practice, we encourage you to look for small ways to bring joy into your in-person or virtual classroom such as:
Begin each class with "Good morning/day/afternoon. I am glad you are here today." Pair your authentic message with a calming picture.
Put small vases of fresh flowers on student tables or one larger vase at the front of the room for an aesthetically pleasing contribution.
During a break, give each student two adhesive googly eyes and let them find a humorous and unexpected place in the building to stick them. Silliness is joyful.
Put on a live bird cam from the Cornell Lab of Ornithology during a break. Or check in on these manatees or coral reef fish to bring the outside in.
Ask students to write a thank you note to someone who had a positive impact on their academic journey. Whether they choose to send it or not, the writing of the letter is likely to make a marked difference in their outlook. Write one with them.
Take a group picture of the class early in the semester and look at that picture before preparing a lesson. Then you are not just planning for a generic class but preparing for specific people. This also works well before providing feedback on student work, helping you to consider the unique individual who will be aided by your efforts.
Build empathy
Literature on "burnout" indicates that relevant components include feelings of detachment and a sense of ineffectiveness (Malesic, 2022). It wouldn't be surprising if you've encountered both of these emotions of late. One proactive response to burnout is to strengthen your empathy skills. For this, we suggest an exercise to enhance your skills and heighten your success in the classroom by using appreciative inquiry to develop an empathy map much like the kind we describe in our book on course design (Zehnder et al., 2021).
The process of creating a map is beneficial for instructors to begin to be conscious of students and feel more attached to them. It also enables faculty to focus on their efforts to become more competent and counter burnout. Finally, the exercise is useful for faculty because it blocks the dark hole of cynicism that is so easy to fall into. Since it de-centers dominant narratives about students, it also affirms those learners who may be questioning whether they belong in higher education. In other words, they may find joy right along with you .
Use the image below to guide you in creating your own empathy map. Use the boxes and questions to imagine the students who will be in your course. Who are they? What are their backgrounds? Why have they enrolled in the course? What does success mean for them? If you get stuck, connect with others on your campus, such as those in your institutional research office. Working with others to understand the diverse learners on your campus is an activity that builds relationships in your academic community, yet another way to reclaim joy.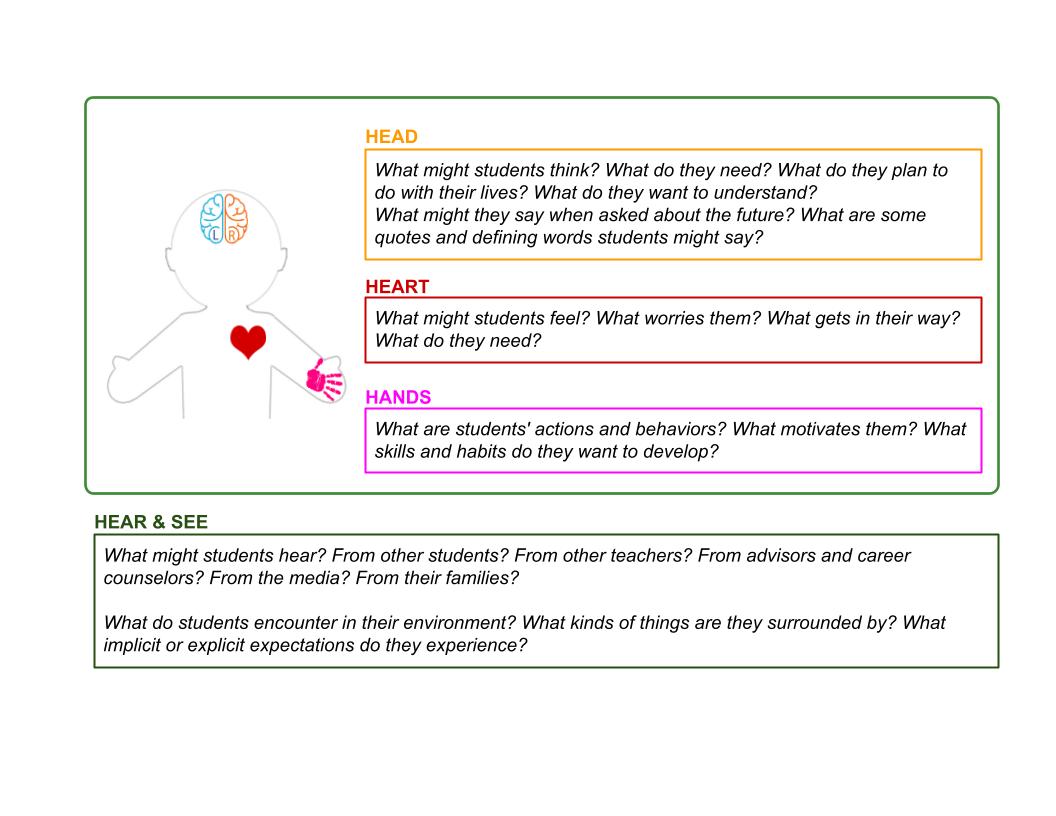 Once you've completed the map, take a moment to list opportunities available to students and barriers they might encounter in the course. You might identify that multiple students in your course commute to campus. These students might experience difficulty engaging in group work outside of class. On the other hand, they likely have better time management skills and connections with off campus communities
Understandably, some faculty might choose to retreat from the difficulties that characterize these times. However, for those who are determined to face the uncertainty and ambiguity head-on, we have shared some ideas for actively seeking the means to reclaim the joy of teaching.
---
Caralyn Zehnder is a senior lecturer in biology at the University of Massachusetts Amherst. Zehnder facilitates course design workshops that help participants use evidence-based teaching practice that utilize the most recent research in education, cognitive psychology, and the social sciences to build learning environments that contribute to important student learning.
Karynne L M Kleine came later to her career in education, which has now fascinated her for 35 years. As a former dean and current professor of education, Kleine collaborates alongside her colleagues at Georgia College as well as nationally to address issues of inequity, particularly that serve to limit life choices. She has examined many of the taken-for-granted-assumptions about teaching, learning, and how the world works in order to internalize her understanding of human nature and its intersection with growth and progress of the collective.
Cynthia Alby has spent most of her career immersed in what could most accurately be described as "avid cross-discipline idea synthesizing." She studies pedagogy, sociology, psychology, neuroscience, and economics – anything that might yield useful clues to improving the art and science of teaching. Her primary research question is, "How might we re-enchant learning for both students and faculty?" She joined Georgia College in 2001, where she is now a professor of teacher education and works extensively with the Center for Teaching and Learning. She is also the lead developer for Georgia's Governor's Teaching Fellows.
JuliA Metzker serves as the director of the Washington Center for Improving Undergraduate Education at The Evergreen State College. During her journey of discovering herself as an educator, she was fortunate to find a cohort of like-minded university educators who cofounded the Innovative Course-building Group (IC-bG)—a grassroots social network for learning that supports teaching faculty and staff across disciplines. She believes in reimagining and reclaiming the democratic potential of assessment, work she champions as a member of the imagining America's "Assessing the Practices of Public scholarship" research group.
Caralyn Zehnder, Karynne Kleine, Cynthia Alby, and JuliA Metzker are the authors of Learning That Matters: A Field Guide to Course Design for Transformative Education.
References
Bai, Yang, Joseph Ocampo, Gening Jin, Serena Chen, Veronica Benet-Martinez, Maria Monroy, Craig Anderson, and Dacher Keltner. "Awe, daily stress, and elevated life satisfaction." Journal of Personality and Social Psychology 120, no. 4 (2021): 837.
Hattie, John. Visible learning: A synthesis of over 800 meta-analyses relating to achievement. Routledge, 2008.
Malesic, Jonathan. The End of Burnout: Why Work Drains Us and How to Build Better Lives. University of California Press. 2022.
Zehnder, Caralyn, Cynthia Alby, Karynne Kleine, and Julia Metzker. Learning That Matters: A Field Guide to Course Design for Transformative Education. Myers Education Press. 2021.