One of the key elements to teaching online is effective communication between teacher and student. We would like to think that our communications are the most important ones that students will receive! The sad reality is that ours are often lost or ignored in the morass of communications that students receive from schools and teachers.
Don't Spam Your Students
Like us, students get a lot of messages in their inbox, which leads to students' eyes glazing over, and then our messages get lost in the mix. How can we avoid that? Set up a consistent communication protocol that is shared with students the first week and then stick to it.
Here's an example: Once a week, send students a message that includes what is upcoming along with other important information or announcements. Send that update on the same day each week so that students know that on Friday (or whichever day you choose) they will get a class update. We are going for quality rather than quantity. Yes, this takes a little planning ahead, but the resulting clarity of communication will pay off.
Exceptions to the once-a-week message may be needed but should be kept to a minimum. Individual messages are, of course, different from course-wide messages and should be sent as needed throughout the week.
What might this weekly message look like? Here is an example. My current LMS doesn't allow for text formatting in messages so I keep it simple.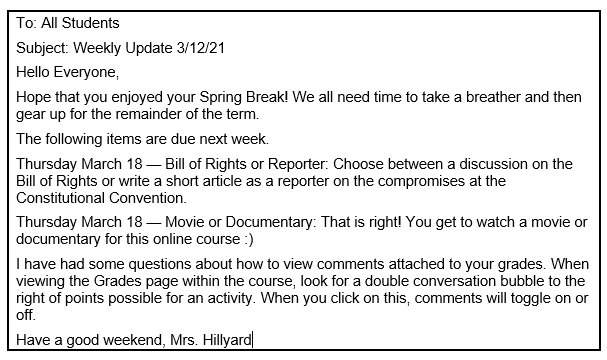 Use Announcements and Course Home Page Effectively
How can you package weekly updates within your online course? Take time to update the Announcements and course Home Page once a week just like your weekly messages. Communications that are predictable stand out and are not lost in the crowd. Regular updating of these course pages has the added benefit of showing teacher presence.
I tend to post the same information in the weekly Announcement as in the updated course Home Page. In the LMS that my school uses, Announcements appear in the course menu but a specific announcement cannot be set as the first page a student would see upon entering the course. Do not delete or overwrite announcements but let them accumulate within the course so that students can refer to previous ones as needed.
If your LMS provides a Home Page for the course that is distinct from Announcements, then update that page once a week. If students missed your message, they'll see the information upon entering the course Home Page.
Let's take a look at a sample Announcement/Home Page. I place a custom-made banner at the top of the page making sure to add Alt Text for accessibility. This quick visual cue helps to distinguish your course from other courses. It always contains a section for the Week Ending and the Week Starting with other sections added as needed for the week. I try to take a more informal tone as if I were speaking directly to them. With Announcements and the course Home Page, I can add more information and take advantage of options to format text.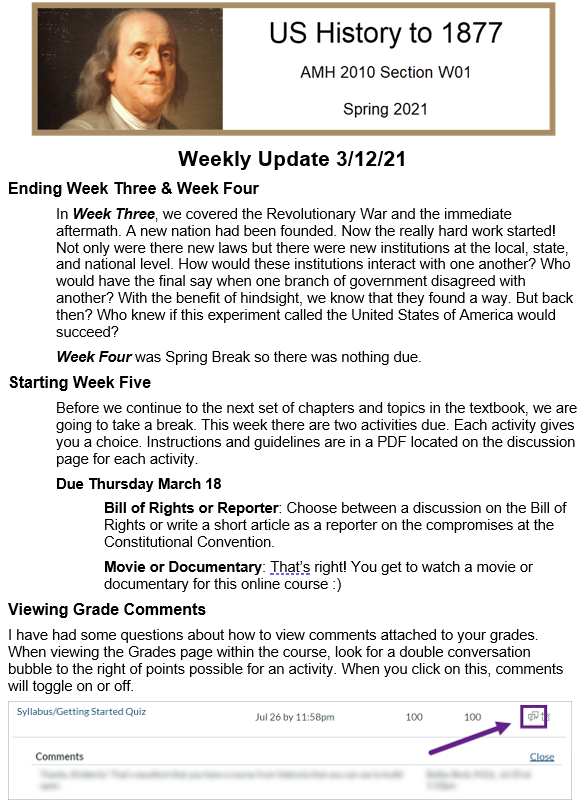 Create a Student-Friendly Assignment Schedule
Part of communicating clearly to students is providing a list of assignments and due dates throughout the term. This is where the proverbial "a picture is worth a thousand words" comes into play. Here are two examples. Which makes a stronger impact on you? Which will "stick" in your brain longer?
Example One: The List

Example Two: A Calendar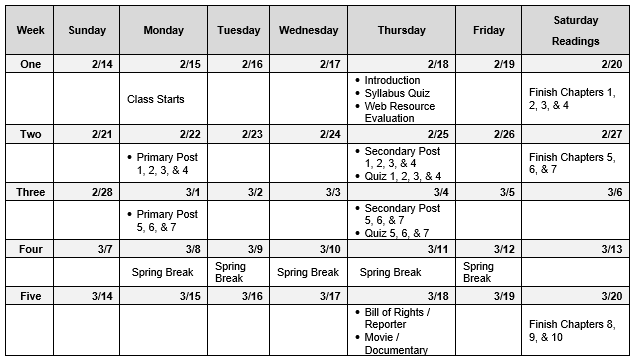 If you're like me, you chose the second example, where assignments are laid out in a calendar format. Students will most likely react the same way. It is much easier to look at the calendar format and think, "Oh, the Bill of Rights assignment is due on Thursday." One note, be sure to work with your LMS support team to format your tables for accessibility in Word, PDF, and LMS formats.
In addition to adding the calendar due dates as a table within the syllabus, I add a standalone calendar of due dates to other key locations within the course to make it easy to find. I also encourage students to use the built-in LMS Course Calendar where it lays out the activities in a similar manner.
The other thing that you may have noticed in this example is that assignments are due on Monday and/or Thursday—this is on purpose. By choosing a few specific weekdays on which assignments are always due, students will quickly learn that, for your class, X day means an assignment is due.
Takeaway
Students feel bombarded with multiple messages and numerous due dates each term. To help students be more successful, take time to develop and share a clear communication protocol for your online class. Here are some of the ways that I communicate this protocol at the beginning of each term:
A video tour of the class is posted on the Home Page the first week and in the Welcome Announcement. In addition to showing students where to find what, I tell them about my weekly messages and that I will update the course Home Page each week.
The following text is taken from the Getting Started module in my classes.

I add the communication protocol to my Week Two Announcement and Home Page update.
The communication protocol is one of the questions on my Syllabus & Getting Started quiz.
Taking time to plan the timing and content of communications with students will not only make life easier for your students but for you as well—that counts as a double win!
---
Kimberly Hillyard currently teaches as an online adjunct in history for State College of Florida and Valencia College which are both located in Florida.