Coming through COVID and having successfully managed the pressure colleges and universities experienced, institutions have found value in flexible course models.
The bimodal flexible course model has not been researched or implemented as widely as the trimodal model, commonly referred to as HyFlex. There are many articles and experiments done with HyFlex course design, and currently, it is the most flexible option available for students as it offers students three ways to attend and participate in each class session throughout the duration of a course. "HyFlex courses provide the capacity for programs to serve remote students in addition to providing convenience and alternatives to regional students" (Beatty, 2019a).
With that said, the trimodal course model does have some inherent challenges. "These benefits come at a cost; costs borne by students, costs borne by instructors and designers, and costs borne by administrators at institutions choosing to implement HyFlex approaches" (Beatty, 2019b). Educators face a challenge in delivering content due to the abundance of technology, coupled with the expectation to simultaneously instruct two distinct sets of learners (those online and those present in person). Additionally, instructors need to ensure asynchronous learners are receiving the learning resources within the learning management system (LMS) and the support they need to succeed. "HyFlex courses place a great deal of pressure on instructors to cater up to three different learning environments at once" (Leboff, 2020). Institutions may find it costly to adopt, uphold, and manage this system. Additionally, there might be a requirement to provide training for educators on the utilization of new technologies. Finally, when offering three choices to students for each class session, it may mean that students are spread across formats, with only a few attending the in-person sessions (or the synchronous online sessions).
The bimodal flexible course model is a simple concept. It combines existing processes and resources in new ways to offer flexible options for student attendance and participation in courses.
What is bimodal flexible (ByFlex) course design?
Bimodal flexible (or ByFlex) course design offers students two options for attending and participating, online or on campus, and then offers two more options, synchronous or asynchronous. It provides students with flexibility in how they prefer to attend and participate in courses from session to session throughout the course duration. This allows students to customize a school-work-life balance that works for their specific situation and needs. See options and Figure 1 below.
On campus (in-person) at the time the course is scheduled, at the same time as the educator, or asynchronously online at a time the student prefers.
Online synchronously at the time the course is scheduled, at the same time as the educator, or asynchronously online at a time the student prefers.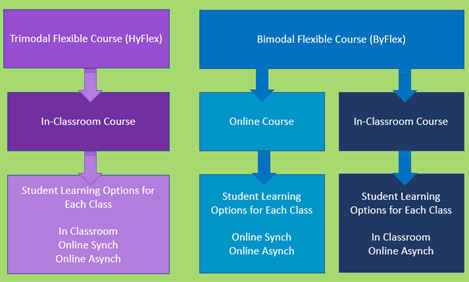 Figure 1: HyFlex Versus ByFlex Course Model
The bimodal course model utilizes existing classrooms with no urgent need to modify or update technologies. Delivering courses in this manner is more straightforward for educators compared to a trimodal approach. They focus on instructing one group of synchronous learners at a time, either online or in the classroom, but not both simultaneously. Educators ensure the asynchronous learners are receiving the learning resources within the LMS and the support they need to succeed. "Blending synchronous and asynchronous allows us to gain the unique benefits from each modality while overcoming the unique limitations" (Shank, 2020).   
Flexible courses may help institutions increase overall course enrollment by offering additional schedule and location flexibility to students (Beatty, 2019b). Flexible courses may aid institutions in their retention efforts by reducing course withdrawal rates because students will better be able to manage their time in order to meet course objectives (Beatty, 2019b). Through multiple modes of participation, students benefit from enhanced access to courses, greater control over their schedules, and a wealth of learning resources. Multiple modes of participation often require more robust instructional materials, enabling richer instruction and providing additional opportunities for learning (Beatty, 2019b). Students may feel less stress by having control over their schedules.
Some bimodal flexible courses are designed with two synchronous options (Concordia, n.d.). Students may attend in-person, in the classroom, or they may attend online synchronously, but either option requires students to attend at the time the class is scheduled with the professor and, therefore, may not be flexible enough to meet students' needs. This model also requires the professor to manage two groups of synchronous learners in two different delivery modes at the same time, thus, having similar challenges as trimodal delivery.
The online course designed with bimodal flexibility provides students with options for attending online either synchronously or asynchronously. Introducing the choice for asynchronous student attendance and engagement might have been a response to reduce the occurrence of "Zoom fatigue." "Anyone who has ever suffered from 'Zoom fatigue' also can attest to the inherent challenges of learning exclusively in synchronous online sessions" (Martin, 2021).
Essentially, the ByFlex course design adds an asynchronous option to either an online synchronous course or an on campus, in the classroom, course. This bimodal flexible course model gives students the flexibility to learn at their own pace while  also providing them the opportunity for immediate feedback and interaction. The difference in the increased amount of flexibility students experience between a trimodal and a bimodal course is negligible, but the costs, time, and effort required to design, implement, and maintain a trimodal course are far more substantial than that required to design a bimodal course.
The next time your institution is planning or developing flexible courses for students, ask yourself the following questions before you decide on a course model:
What are the reasons we are doing this?
Are trimodal courses really worth the amount of investment, training, and support required?
Does the bimodal course model offer students the amount of flexibility they value?
Can the institution and educators support the bimodal flexible course model better than the trimodal model?
---
Kerri Shields has been a college professor for 20+ years and has taught many courses in business, management, marketing, and information systems. She has designed courses for hybrid, in-classroom, and online delivery, and has observed the pros and cons of each delivery method. She enjoys learning as much as she does teaching and understands that students have varied learning styles and needs. Shields has also published a book on bimodal flexible delivery: https://ecampusontario.pressbooks.pub/byflex/
References
Beatty, B. (2019a). Hybrid-flexible course design. (ch 1.1) https://edtechbooks.org/hyflex
Beatty, B. (2019b). Hybrid-flexible course design. (ch 1.2) https://edtechbooks.org/hyflex
Concordia University. (n.d.) Bimodal classrooms. https://www.concordia.ca/ctl/teaching/bimodal-classrooms.html
Leboff, D. (2020, June 12). What you need to know about Hyflex courses. https://tophat.com/blog/what-you-need-to-know-about-hyflex-courses/
Martin, F. (2021, May 27). Bichronous online learning: Is blending asynchronous & synchronous the best approach? https://interactions.aect.org/bichronous-online-learning-is-blending-asynchronous-and-synchronous-the-best-approach/
Shank, P. (2020, July 24). (The right) learning modalities to deliver digital learning: Part 5. https://elearningindustry.com/blending-asynchronous-and-synchronous-digital-learning-modalities-part-5
Additional Resources
Allsteel. (n.d.) The challenges of HyFlex Learning. https://www.allsteeloffice.com/insights/blog/challenges-hyflex-learning
Lederman, D. (2022, October 20). HyFlex learning: Pros, cons and the future. https://www.insidehighered.com/quicktakes/2022/10/21/hyflex-learning-pros-cons-and-future
Palazzo, C. (n.d.) What are hybrid-flexible or hyflex courses and their impact on student learning. https://www.kritik.io/resources/what-is-hyflex-learning
Schaberg, C. (2022, January 18). HyFlex is not the future of learning. https://www.insidehighered.com/advice/2022/01/19/hyflex-teaching-black-mirror-higher-ed-opinion