Every now and then the worlds of entertainment and education collide, producing something magical for both teachers and students; a moment where learning and personal growth is seamlessly achieved by an eager audience. Classic shows like Reading Rainbow, Bill Nye the Science Guy, and The Magic School Bus are spectacular examples of just how useful the right television show can be in an academic setting.
Cue the eponymous lyrics, "Conjunction junction, what's your function?" Much like its aforementioned predecessors, The College Tour is the latest educational program to break into the classroom and is doing the near impossible—engaging teenagers!
Gaining a large following of high school students, teachers, and counselors, The College Tour has become the unsung hero of college readiness preparation, enabling an equitable distribution of information among the entire student body for free. The College Tour—which streams on Amazon Prime and is also available for free through its website, app, and Freevee—travels to colleges, universities, and community colleges across the country sharing first-person stories of what life is like on campus. Each episode features a diverse group of students with varying backgrounds, interests, and academic levels. The show focuses on inclusiveness, and features episodes with hearing-impaired students, autistic students, first-generation students, and multilingual students.
Because touring colleges can be logistically difficult, teachers have brought the show into their classrooms as a way to supply students with meaningful information so students can make decisions beyond the scope of what they may have deemed possible—or rather impossible. Counselors in low income schools are relying on The College Tour to foster a connection to higher education and help students identify with their onscreen contemporaries. The show is told from a student's perspective, where viewers can better connect with students on the show and their academic journey, regardless of race, gender, socioeconomic status, or learning needs.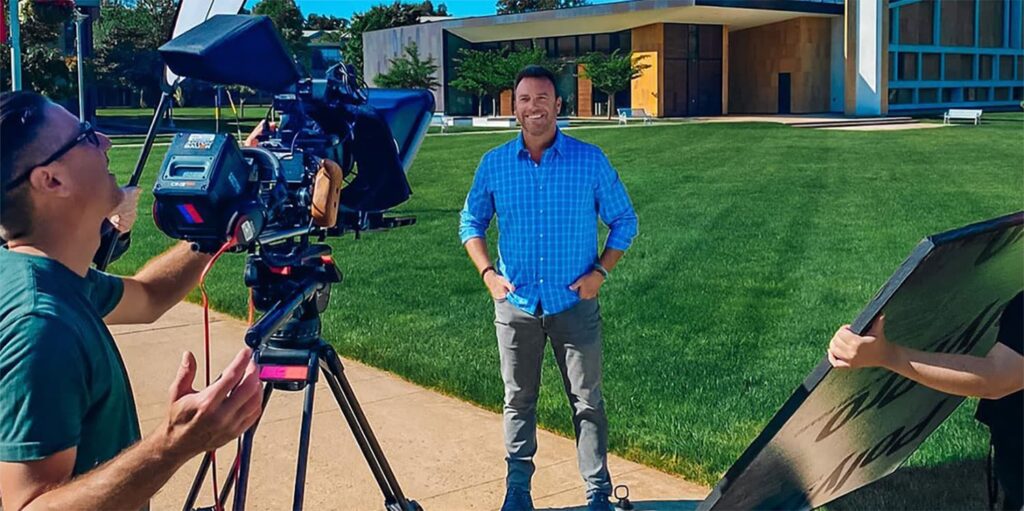 "The goal of our show was to make college truly accessible to everyone," said show co-creator, host, and executive producer Alex Boylan. "Whether it is COVID-19 restrictions, financial limitations, or even medical limitations, we set out to make a show that defines equity. The response from the educational community has been phenomenal. Teachers and college counselors have thanked us for helping put kids on a college track that they otherwise weren't sure would be achievable."
Boylan, a former winner of The Amazing Race, said the response from the academic world was so robust they expanded The College Tour website so that it will include "The Class," a free curriculum teachers can use in the classroom to help students identify what matters most when deciding on a college. "The Class" is broken down into four key pillars: location, campus culture, majors, and types of school. It also features corresponding videos and assignments for student to help them learn how to make educated decisions that are based on their own personal needs and desires. 
"We created 'The Class' as an additional tool to help students hone-in on what is important to them. Teachers have been showing The College Tour episodes in class regularly, and this will now enable them to have a supportive curriculum to help students think critically about their priorities," Boylan added.
College counselors have also found the show useful in helping students identify schools outside of their scope, particularly in lower income areas and the Latino community. The College Tour recently aired their first ever, all-Spanish episode at Maricopa Community College Systems, one of the largest community college networks in the country. This episode speaks particularly well to first-generation students, immigrants, and English to Speakers of Other Languages (ESOL) students.
"I am a first-generation immigrant for whom the process of getting into college has been one of the most intimidating things I have ever faced," said freshman Frida Guzman, who was featured in our recent episode. "However, since I have been at Chandler-Gilbert Community College, I knew I had the chance to become an honors student at the college level…I'm currently in the process of earning a business administration degree, as well as participating in the Presidential Honors program, DECA club, and Phi Theta Kappa Honors Association."
Since it began two years ago, The College Tour has represented an honest, student perspective of higher education. The goal is to introduce the show into the classroom at a young age and help build a sense of belonging on campus. In fact, many middle schools are using the show to teach US geography as a fun and informative way to see college from a young person's lens. By doing so, students are gaining familiarity with college life at an early age while also seeing what life can look like living in different parts of the country. Students can also use "The Class" as a way to begin conceptualizing their academic future. The earlier they decide to become college bound, the more successful they will be in accomplishing that goal.
Through free episodes and "The Class," teachers have endless ways to inspire the next generation to take the steps necessary to pursue an educated future. Each episode serves as a snapshot of what could be, while the accompanying curriculum helps students identify ways to make this a reality.
The College Tour is currently in its fourth season and is streaming on Amazon Prime. All 49 episodes are available on Home – TheCollegeTour.com.