Do you find that students often struggle to put together effective oral presentations? To help students, try this activity as a way to provide feedback before the big speaking day. The four-corners activity can foster confidence in students while informing them about effective non-verbal/verbal delivery, audience needs, and how to craft effective speaking notes.
Using the four corners of the classroom, each student delivers his or her presentation to a small group, receives individual feedback, and then rotates within that group from speaker to audience member. This activity is ideal for a full class period (50 minutes) and requires only a timer.
Here's how to structure the four corners: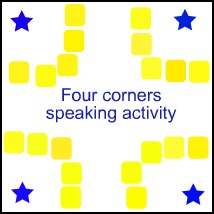 Four corners classroom set up.
Preparation: You will want to schedule this activity at least a week before the presentation is due. Ask students to bring all of their speaking materials with them: rough draft outlines, final outlines, references, and speaking notes. It is okay if students have not fully completed their speech—they will still get something out of this activity. In fact, if a student tells me they don't have speaking materials, I insist they participate using whatever materials they have. I begin setting up the classroom about 10 minutes before class begins. Desks should be moved to the four corners of your classroom. The desks should be facing the corner in a semi-circle. The speaker will stand with their backs to the corner and face a mini-audience of approximately five desks (depends on class size).
Activity: Next, divide the students into four groups (a group for each corner). I purposefully put students who may not know one another well, who can learn from one another, or who have similar issues, together in a group. The students will deliver their presentation to their mini-audience. Four speeches occur simultaneously. In a typical classroom, the mini-audience will have no trouble hearing their speaker. The teacher will move around the room, with the timer, and provide feedback. I generally stop each round of speeches at five minutes (which reflects my speaking assignments). At the end of the first round of speeches, allow a few minutes for the group to critique and offer suggestions for the speaker. Then, each group elects another member to speak and the process continues until all group members speak.
The instructor: The instructor moves around the room; stopping to listen in on each of the four groups and offer feedback. It is an easy way to hear where the class may struggle and learn what areas need improved for future instruction, too!
The audience: Depending on how structured you want the activity, you can give the audience a list of criteria to look for or even assign each student to a specific role. For example, one student can watch for non-verbal issues, one can critique the introduction and conclusion, and another can examine oral references. If you prefer something less structured, simply ask the students to provide general comments and feedback.
Results: Typically, students are actively involved, engaged, and excited for the "four corners" day. It is an activity that fosters peer-to-peer interaction and is a good way for students to practice in a non-threatening format. The instructor can provide targeted, individualized feedback on oral presentations before the big day. Best of all, this activity provides students with the chance to orally present their speech with a live audience. They can see where the gaps are, if their speaking notes are helpful, and what to change before presentation day.
Lora Helvie-Mason, EdD is an assistant professor of communication studies at Southern University at New Orleans.