Grading student work can be the most labor intensive part of the job for most of us. We often feel pulled in multiple directions – with service commitments and research projects on top of teaching responsibilities – so finding time to grade student papers, exams, projects, and in-class work can feel challenging. Sometimes students do not even read the feedback provided on their graded work, which makes our time spent on evaluation feel like a lost opportunity. There are plenty of professional development strategies that offer ideas for impacting the effectiveness of our responses or speeding up grading, such as creating pre-written commentary, audio/video feedback options, and peer grading. However, what is frequently missing from the conversation about grading is how to integrate the activity of evaluation within the time constraints of a typical day for a faculty member. Most of us do not have access to large chunks of time to devote to tasks, so the work of grading builds up and bleeds into personal time, such as late nights and weekends. Finding a strategy to cultivate small moments of consistency with grading can provide faculty with a better balance between their job duties, homelife, and mental wellbeing.  
The strategy: GRADE
We both teach composition and interdisciplinary courses at a regional state university in Georgia. Many of our courses have 48 students enrolled, and writing is assigned in all classes. The writing assignments include invention work, draft work, and final versions, which all require feedback and evaluation. We do not use any machine grading. The GRADE strategy was developed informally four years ago when we both felt like we were drowning under grading demands that were oozing into our weekends and evenings. After reflecting on our process and working to represent it with others, we share this strategy here with you in the hopes that a small bit of consistency can bring you a better work/life balance. We introduce you to GRADE: 
G

et an accountability partner

R

each reasonable goals

A

nticipate roadblocks

D

o regular check-ins

E

xercise kindness
Get an accountability partner
Grading, much like writing, often feels isolating. You can easily believe you are functioning in a silo, distanced from other people. While you can't (or perhaps shouldn't) farm out grading to others, this doesn't mean you have to do it alone. One of the most important things you can do for yourself when the grading feels overwhelming is to find an accountability partner. An accountability partner is someone who is also shouldering a heavy grading load and can keep you on track. This is the person or people you can work with to set goals, cheerlead, and/or provide gentle nudges. Knowing someone else is working in tandem with you can serve as a strong motivator to immerse yourself in the grading mindset without feeling disconnected from the collaborative space. Partners can, but don't have to, come from the same department or discipline. While we both teach composition, we could easily invite other faculty from around campus to be a partner or join a grading group. The aim here is to imitate the feeling of collaboration with shared goals and progress. 
We have been accountability partners, relying on text message communication in most cases, for the past four years. The use of this method has encouraged us to complete more grading when possible. Here is a text message to highlight an example of this encouragement and collaboration: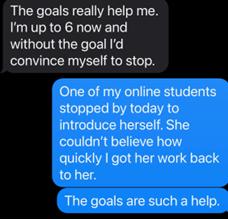 R

each reasonable goals
While it can seem on the surface that setting lofty goals will lead to more productivity, we've found through experience that setting too high a goal can often lead to frustration and feelings of doubt and failure. The important thing to remember is to consider your time, energy, and focus. For the two of us, we usually begin with smaller goals, especially for assignments that require high-level feedback that can take up to an hour to grade each document. You might consider adding up how many items you have to grade and then dividing between five (for a one-week response time) or 10 (for a two-week response time). That number will show you how many items you would need to grade each day. Usually, we set a goal of five to 10 items a weekday.
Here is a sample text message that highlights a reasonable goal setting process: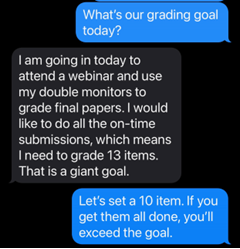 A

nticipate roadblocks
As most of you know, even when you have your days meticulously scheduled, things arise that can derail your plans for productivity. These disruptions can sometimes mean having to re-evaluate goals, especially when it comes to grading. Anticipating these roadblocks is an important part of setting reasonable goals each day and for managing productivity expectations.
Here is a sample text message that highlights how to acknowledge roadblocks and move through them: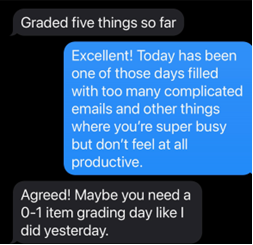 D

o regular check-ins
Part of being a good accountability partner is providing the gentle and regular nudging needed for forward progress. The act of reporting the forward progress can provide continued momentum for your grading goals as the successful days add up. It can be delightful and uplifting to report on your attained goal. 
Here is a text message example to illustrate how simplistic a check-in can be. This check in took less than ten seconds to complete.  

Exercise kindness
Even the best plans can falter, and we all have days when what we planned to work on is not at all what we ended up handling. In these cases, we need to be kind and realistic with ourselves. Just because we set a goal does not mean we always meet it. In these cases, your accountability partner can help you by being kind and encouraging you to find what you need.
Here is a text message example to illustrate a moment of kindness: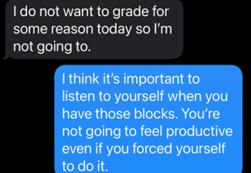 No system is perfect, but the GRADE strategy has worked successfully for us for the past four years. We believe that the supportive and convenient accountability used within the system has resulted in a more efficient and, dare we say it, enjoyable grading experience for us both. Instead of waiting on a giant block of time to shift into your schedule, we invite you to find your accountability partner, set a reasonable grading goal, and cultivate a collaborative and consistent grading strategy that protects your weekends, evenings, and wellbeing.  
---
Dr. Jennifer P. Gray is a professor of English and the Writing Center Director at the College of Coastal Georgia, and she has taught composition for over 25 years.
Dr. Stephanie B. Conner is a tenure-track professor of English with a focus on composition and Interdisciplinary Studies at the College of Coastal Georgia. She has taught composition for over 25 years.
Both Stephanie and Jennifer have taught in the K-12 system as well and routinely lead Writing Across the Curriculum workshops and professional development activities.