THE Teaching Professor Blog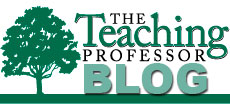 The Teaching Professor Blog is written by Dr. Maryellen Weimer, professor emerita at Penn State Berks and one of the nation's most highly regarded authorities on effective college teaching. Many of you know Maryellen as the editor of The Teaching Professor newsletter and from her book Learner-Centered Teaching: Five Key Changes to Practice, which is considered the go-to guide for educators looking to adopt a learner-centered approach in their classrooms.
The Teaching Professor Blog features a new weekly post from Maryellen on such topics as: the scholarship of teaching and learning, student engagement, classroom policies, active learning, assignment strategies, grading and feedback, and student performance.
---
By: Maryellen Weimer, PhD in Teaching Professor Blog
I've been thinking lately about the relationship between what we teach and how we teach. Part of that relationship is pretty obvious: If you teach something with problems to solve, you spend time problem-solving when you teach. If you teach a skill (like writing or dancing), you spend time providing examples (of good sentences or dance steps). But what I've been trying to sort out is something on a different level—the interaction between content, character, and teaching style.
---
By: Maryellen Weimer, PhD in Teaching Professor Blog
In the July 10, 2013 post, I shared some ideas about learning with students precipitated by an article that made an interesting distinction between "doing for" students and "learning with" students. The post generated some good responses and prompted Aron Reppmann, a philosophy professor at Trinity Christian College in Illinois, to send me an email. "I think you have your finger on something that's often missed in debates about professors' posture toward students: namely that to say that we learn with and from our students is not necessarily to say that we are always learning in the same way as our students."
---
By: Maryellen Weimer, PhD in Teaching Professor Blog
A simple teaching technique that helps students learn; now there's something few teachers would pass up! This particular technique involves a four-question set that gets students actively responding to the material they are studying. They analyze, reflect, relate, and question via these four prompts:
---
By: Maryellen Weimer, PhD in Teaching Professor Blog
I don't know if the first day of class is the most important day of the course, but I don't think many of us would disregard its significance. What we do and how we do it matters. There are lots of good first-day activities—we've shared some in this blog over the years. In this post I'd like to move our thinking in a different direction and suggest five first-day essentials that go beyond the activities. These are the goals for the first day that we can use the activities to accomplish.
---
By: Maryellen Weimer, PhD in Teaching Professor Blog
Do you teach the way you learn? That's the question Harold White asks in a short essay in which he recounts how he decided that he should. The catalyst was a faculty development workshop (more than 20 years ago) that featured an interesting activity. Participants were challenged to think about the most important lessons they
---
By: Maryellen Weimer, PhD in Teaching Professor Blog
"My students act so unprofessional," a faculty member complained. "Two of them were all but making out before class started and they never stopped touching each other during class." Heads nodded and more examples followed.
---
By: Maryellen Weimer, PhD in Teaching Professor Blog
Like many matters regarding teaching and learning, there isn't one best way to put students into groups. The best way is related to what you want students to learn from their group experience. Here's a brief discussion of how that works for three common ways of forming groups.
---
By: Maryellen Weimer, PhD in Teaching Professor Blog
The July 2013 issue of Teaching of Psychology (40, 3) includes an "objective analysis" of the specifications and content coverage of 13 full-length introductory psychology textbooks. In six pages, teachers get a well-organized overview of introductory texts and a good feel for what those in the field consider important introductory course content. Scholarship like this makes a valuable contribution to the discipline.
---
By: Maryellen Weimer, PhD in Teaching Professor Blog
Every now and again I come across a quote that follows me around for the rest of the day, if not several days. That happened this week and here's the quote, "I see myself as a learner first, thus I create my classes with learners, not for them …."
---