THE Teaching Professor Blog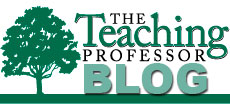 The Teaching Professor Blog is written by Dr. Maryellen Weimer, professor emerita at Penn State Berks and one of the nation's most highly regarded authorities on effective college teaching. Many of you know Maryellen as the editor of The Teaching Professor newsletter and from her book Learner-Centered Teaching: Five Key Changes to Practice, which is considered the go-to guide for educators looking to adopt a learner-centered approach in their classrooms.
The Teaching Professor Blog features a new weekly post from Maryellen on such topics as: the scholarship of teaching and learning, student engagement, classroom policies, active learning, assignment strategies, grading and feedback, and student performance.
---
By: Maryellen Weimer, PhD in Teaching Professor Blog
Someone sought me out recently to say that she'd tried something I had recommended and it didn't work. "You need to stop recommending that to people," she told me. "How many times did you try it?" I asked. "Once and the students hated it," she responded. This rather direct feedback caused me to revisit (and revise) a set of assumptions that can create more accurate expectations when implementing new instructional approaches.
---
By: Maryellen Weimer, PhD in Teaching Professor Blog
I am on my way to speak at another professional development day at a college. I do these events with misgivings—frequently persuading myself on the way home that I really shouldn't be doing them.
Some time ago, a colleague and I reviewed the literature on interventions to improve instruction. If I were to do that paper again, I would pay special attention to those changes that improved student learning. The research we looked at then did not give workshops very high marks. If teachers changed, they did so right after the event, but soon reverted to their old ways of doing things
---
By: Maryellen Weimer, PhD in Teaching Professor Blog
Lots of good writing on the science of learning is coming out now and it's needed. For too long we have known too little about learning—I won't digress into the reasons why. We need to take advantage of this opportunity to learn more about this science.
Here's a case in point. Most students (about 80% according to survey data) "study" text and other assigned reading materials by rereading them. Yes, I know. It's a huge struggle to get some students to do any reading. We have addressed that problem here previously and you'll find another good way to get students reading in the June/July issue of The Teaching Professor newsletter. But for this post, let's consider those students who've done the reading and are now "studying" it to prepare for an exam. Most students do that by simply rereading the material.
---
By: Maryellen Weimer, PhD in Teaching Professor Blog
I just taught a dear friend how to knit, and in doing so I revisited how very challenging it is to teach something you can do easily.
Knitting, like so many of the skills we teach, including concrete skills like running a lathe and abstract ones like critical thinking, cannot be learned in theory. It is learned by doing. "Now you try," I say after several slow, deliberate demonstrations of the motions. Oh my, such clumsy confusion. "Here, let me show you again." I slow down even further and talk through the movements needed to make a stitch. Good gracious, I can hardly watch these tortured, truncated movements, so far from the peaceful, rhythmic flow of knitting. As the confusion continues, thoughts start going through my mind. How many times am I going to have to show her? It can't possibly be this hard? And why am I feeling frustrated?
---
By: Maryellen Weimer, PhD in Learning Styles, Teaching Professor Blog
We have this tendency in higher education to throw babies out with bath water. It derives from dualistic thinking. Either something is right or wrong, it's in or out, up or down. As mature thinkers, we disavow these dichotomous perspectives, but then find their simplicity hard to resist. They make complicated things easy.
---
By: Maryellen Weimer, PhD in Teaching Professor Blog
Issue 1: The classroom discussion is going pretty well. Students are offering some good comments and more than one hand is in the air. Then a student makes a really excellent observation that opens up a whole avenue of relevant possibilities. You follow-up by calling on a student whose hand has been in the air for some time. Her comment is fine, but it's totally unrelated to the previous comment. How do you get students to respond to each other's comments? How do you get student comments to build on a key topic so that it becomes more like a real discussion?
---
By: Maryellen Weimer, PhD in Teaching Professor Blog
That was the question, followed by, "Are they students who want to take over the classroom?" "No," I replied, "it's about how students approach learning—motivated, confident, and ready to tackle the task."
---
By: Maryellen Weimer, PhD in Teaching Professor Blog
The March 12, 2014 post raised issues about those students who really don't want to work with others in groups … "lone wolves" as they're called in the literature. Your responses raised a number of issues. I thought it might be worth exploring some of them a bit further.
Many of the comments defended the lone wolves, pointing out that their good academic performance could be compromised by having to work in a group. Did anyone comment about those social learners (whose existence is also well documented in the research) who do well working in groups? We require those students to spend time listening and learning alone, experiences that potentially compromise their academic performance.
---
By: Maryellen Weimer, PhD in Teaching Professor Blog
The Effective Lifelong Learning Inventory, developed by a research group at the University of Bristol in the UK, is a self-assessment tool that helps learners develop an awareness of how they learn and encourages them to take responsibility for their learning. It contains seven scales that profile an individual's capacity for lifelong learning. The high and low ends of those scales identify two very different approaches to learning. I think they make a nice companion to the list of learner characteristics in the January 22, 2014 post.
---