THE Teaching Professor Blog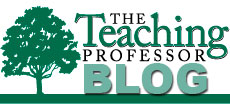 The Teaching Professor Blog is written by Dr. Maryellen Weimer, professor emerita at Penn State Berks and one of the nation's most highly regarded authorities on effective college teaching. Many of you know Maryellen as the editor of The Teaching Professor newsletter and from her book Learner-Centered Teaching: Five Key Changes to Practice, which is considered the go-to guide for educators looking to adopt a learner-centered approach in their classrooms.
The Teaching Professor Blog features a new weekly post from Maryellen on such topics as: the scholarship of teaching and learning, student engagement, classroom policies, active learning, assignment strategies, grading and feedback, and student performance.
---
By: Maryellen Weimer, PhD in Teaching Professor Blog
Providing students with useful information about how to function effectively when they work in groups stands a good chance of improving what the group produces. It also helps students develop important skills they can use in group activities in college and beyond. Providing the information doesn't guarantee that students will make use of it, but it's a better option than not providing it.
---
By: Maryellen Weimer, PhD in Teaching Professor Blog
This weekend I discovered a "memo to students who are disappointed with their last test grade." What a great idea! I wasn't surprised when I found out it was more of Rich Felder's good work.
Students are terribly optimistic about their grades, especially at the beginning of a course. Then comes the first exam, many of us giving it early on in an attempt to dislodge these convictions that success will come easily and with little or no effort. If we return the exams during class, disappointment hangs heavy in the air. In those moments of despair there's an opportunity to confront students with what they might have done (or not done) that caused (or is at least related to) that disappointing score.
---
By: Maryellen Weimer, PhD in Teaching Professor Blog
More than 600 students answered 17 survey items about one of their courses in order to help researchers explore factors that influence students' use of office hours. The research goal was to identify ways instructors could increase the use of office hours because so many students don't take advantage of this opportunity to interact with faculty. Sixty-six percent of these students reported that they had not attended office hours for the course in question. The remaining third had been to the instructor's office once. Only 8% reported attending office hours more than once a month. These percentages are consistent with previous findings.
---
By: Maryellen Weimer, PhD in Teaching Professor Blog
The use of online discussion in both blended and fully online courses has made clear that those exchanges are more productive if they are structured, if there's a protocol that guides the interaction. This kind of structure is more important in the online environment because those discussions are usually asynchronous and minus all the nonverbal cues that facilitate face-to-face exchanges. But I'm wondering if more structure might benefit our in-class discussions as well.
Students struggle with academic discourse. They have conversations (or is it chats?) with each other, but not discussions like those we aspire to have in our courses. And although students understand there's a difference between the two, they don't always know exactly how they're supposed to talk about academic content when discussing it with teachers and classmates. Would providing more structure provide that clarity and make the value of discussions more obvious to students?
---
By: Maryellen Weimer, PhD in Teaching Professor Blog
It's that time of the year when everybody is doing their "Best of 2014" lists, and I have one of my own that I've been wanting to do for some time now.
It will not come as a surprise to anyone that in order to prepare The Teaching Professor newsletter each month and this blog every week, I read a lot of pedagogical literature. But perhaps you would be surprised to know there are close to 100 pedagogical periodicals, at least that's how many I am aware of at this point. When writing my book, Scholarly Work on Teaching and Learning, I did my best to find them all and when the book was finished I was quite confident I had. However, the book was out less than a week before I was getting notes about journals I had missed and I'm still discovering new ones. Most of these journals are discipline-based, but there's a significant number of cross-disciplinary publications as well.
---
By: Maryellen Weimer, PhD in Teaching Professor Blog
In this the final post for 2014, I wanted to say thanks to those of you who take time to add comments after the posts. I don't respond because I've had my say. However, I do read every comment and often wish I could gather a group of you together for coffee (maybe something stronger, it is the holiday season) and continue the conversation.
We are still struggling with finding time and venues that expedite conversations about teaching and learning. The most pressing teaching issues of the moment tend to occupy our attention—test questions we need to write, reaction papers to record, the technology needed for a class activity tomorrow, or that routinely absent student who wants an extension. When we do encounter each other, we talk about these daily details but not about issues that merit deeper discussions.
---
By: Maryellen Weimer, PhD in Teaching Professor Blog
I've been rereading some of the research on student self-assessment and thinking about how students develop these skills. They are important in college, all but essential in most professions, but they're rarely taught explicitly. We assume (or hope) they're the kind of skills student can pick up on their own, even though most of us see evidence to the contrary. Many students, especially beginning ones, routinely overestimate their ability and underestimate the difficulty of course content. How often did I hear this comment about my courses: "A communication course? Gotta be a piece of cake. I've been talking since I was 3."
---
By: Maryellen Weimer, PhD in Teaching Professor Blog
For most of us, it's that time of the semester when we are least likely to think positively about students. We're tired, they're tired, and there are still the proverbial miles to go. Some students have finally figured out they're in trouble in the course, but none of their difficulties derive from anything they've done (or haven't done), or so they think. Others remain lost in a thick fog that obscures even very fundamental course content. Passivity is the default mode for what feels like an increasingly large group. If there's any lull in the action, they settle back, quickly finding their way to places of mental relaxation.
---
By: Maryellen Weimer, PhD in Teaching Professor Blog
Here's a great resource: the Teaching Practices Inventory. It's an inventory that lists and scores the extent to which research-based teaching practices are being used. It's been developed for use in math and science courses, but researchers Carl Wieman and Sarah Gilbert suggest it can be used in engineering and social sciences courses, although they have not tested it there. I suspect it has an even wider application. Most of the items on the inventory are or could be practiced in most disciplines and programs.
---