THE Teaching Professor Blog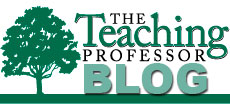 The Teaching Professor Blog is written by Dr. Maryellen Weimer, professor emerita at Penn State Berks and one of the nation's most highly regarded authorities on effective college teaching. Many of you know Maryellen as the editor of The Teaching Professor newsletter and from her book Learner-Centered Teaching: Five Key Changes to Practices, which is considered the go-to guide for educators looking to adopt a learner-centered approach in their classrooms.
The Teaching Professor Blog features a new weekly post from Maryellen on such topics as: the scholarship of teaching and learning, student engagement, classroom policies, active learning, assignment strategies, grading and feedback, and student performance.
---
By: Maryellen Weimer, PhD in Teaching Professor Blog
Most faculty are familiar with the strategy: students are allowed to bring into the exam a card or sheet of paper that they've prepared beforehand and that contains information they think might help them answer exam questions. I became convinced of the strategy's value when my husband was an undergraduate. He and his engineering study buddies convened at our place the night before an exam to decide what they should put on the 4 x 6 note card they were allowed to take into a mechanical engineering course. They spent hours in heated discussion. They thought they were just figuring out what went on the card, but in fact they were sorting out, prioritizing, organizing, and integrating the content of the course. Their discussion accomplished that way more effectively than any review session I had conducted. Of course, being engineers, they decided on what they needed and then reduced the size so that when they got it on the card they needed a magnifying glass to read it.
---
By: Maryellen Weimer, PhD in Teaching Professor Blog
Can we reform teaching and learning throughout higher education one class at a time? I used to think so, but the pace of change has made me less optimistic. I just finished preparing an article for The Teaching Professor newsletter that reports the results of a survey of 744 full- and part-time faculty teaching at eight two-year technical colleges across Georgia. The researchers presented the respondents with a list of 18 instructional strategies and asked them to identify how often they used each one in their last 10 class sessions. Over 90% of the respondents said they lectured for four or more class sessions with more than 50% of those saying they lectured during all 10 class sessions.
---
By: Maryellen Weimer, PhD in Teaching Professor Blog
A colleague and I have been revisiting a wide range of issues associated with classroom interaction. I am finding new articles, confronting aspects of interaction that I still don't understand very well, having my thinking on other topics challenged, and learning once more how invaluable and personally satisfying a pedagogical exchange with a colleague can be. My colleague recommended an article I had forgotten. The article is old but the point it makes is just as relevant today, if not more, than when it was made in 1987.
---
By: Maryellen Weimer, PhD in Teaching Professor Blog
The term "teaching effectiveness" had its heyday in the 80s and early 90s during that period when so much work on student ratings was being done. Its connection to evaluation activities remains and even end-of-course ratings are often thought of as measures of teaching effectiveness. Given its continuing importance, it is a term we should regularly revisit.
---
By: Maryellen Weimer, PhD in Teaching Professor Blog
Students benefit from taking and having a good set of notes, even though many of them don't see the value, don't take good notes and like it best when they can copy word-for-word what the teacher says or has on the PowerPoint slides. We can pontificate about how students should have already been taught the value and skills of note taking. We can tell them in class, on the syllabus and the course website that they need to take notes, but I think less telling and more showing is the better way to go. This post offers a range of activities teachers can use to help students discover what a good set of notes enables them to do.
---
By: Maryellen Weimer, PhD in Teaching Professor Blog
I'm working my way through a 33-page review of scholarship on instructional change in Science, Technology, Engineering and Math (STEM) disciplines. The authors reviewed an impressive 191 conceptual and empirical journal articles. However, what they found isn't impressive both in terms of the quality of the scholarship on this topic and in terms of instructional change in general.
---
By: Maryellen Weimer, PhD in Teaching Professor Blog
In November I had the great privilege of interviewing Parker Palmer. If you don't know his book, The Courage to Teach, it's one not to miss. If you haven't read it in a while, it merits a reread. After reading it again, I found new ideas I missed the first time, old ones I have yet to understand completely and others I hadn't thought about for far too long.
---
By: Maryellen Weimer, PhD in Teaching Professor Blog
There's no discounting the importance of the first day of class. What happens that day sets the tone for the rest of the course. Outlined below are a few novel activities for using that first day of class to emphasize the importance of learning and the responsibility students share for shaping the classroom environment.
---
By: Maryellen Weimer, PhD in Teaching Professor Blog
Figuring out final grades feels like closure. It's the last time we think carefully about each student we've had in this set of classes. Some of them have done so well, and if they are students we've had in multiple courses, we feel such satisfaction as we watch what they are becoming. They make teaching worth the work. But then there are other students—the ones who failed because it just wasn't the time in their lives to learn this content, the ones who didn't have the skills they needed to make it, and the ones who passed the course but never connected with the content, the teacher, and sometimes, not even with their classmates. These are the students who some days make us wonder why we even bother.
---