THE Teaching Professor Blog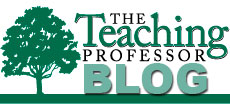 The Teaching Professor Blog is written by Dr. Maryellen Weimer, professor emerita at Penn State Berks and one of the nation's most highly regarded authorities on effective college teaching. Many of you know Maryellen as the editor of The Teaching Professor newsletter and from her book Learner-Centered Teaching: Five Key Changes to Practice, which is considered the go-to guide for educators looking to adopt a learner-centered approach in their classrooms.
The Teaching Professor Blog features a new weekly post from Maryellen on such topics as: the scholarship of teaching and learning, student engagement, classroom policies, active learning, assignment strategies, grading and feedback, and student performance.
---
By: Maryellen Weimer, PhD in Teaching Professor Blog
It's that time of the year when everybody is doing their "Best of 2014" lists, and I have one of my own that I've been wanting to do for some time now.
It will not come as a surprise to anyone that in order to prepare The Teaching Professor newsletter each month and this blog every week, I read a lot of pedagogical literature. But perhaps you would be surprised to know there are close to 100 pedagogical periodicals, at least that's how many I am aware of at this point. When writing my book, Scholarly Work on Teaching and Learning, I did my best to find them all and when the book was finished I was quite confident I had. However, the book was out less than a week before I was getting notes about journals I had missed and I'm still discovering new ones. Most of these journals are discipline-based, but there's a significant number of cross-disciplinary publications as well.
---
By: Maryellen Weimer, PhD in Teaching Professor Blog
In this the final post for 2014, I wanted to say thanks to those of you who take time to add comments after the posts. I don't respond because I've had my say. However, I do read every comment and often wish I could gather a group of you together for coffee (maybe something stronger, it is the holiday season) and continue the conversation.
We are still struggling with finding time and venues that expedite conversations about teaching and learning. The most pressing teaching issues of the moment tend to occupy our attention—test questions we need to write, reaction papers to record, the technology needed for a class activity tomorrow, or that routinely absent student who wants an extension. When we do encounter each other, we talk about these daily details but not about issues that merit deeper discussions.
---
By: Maryellen Weimer, PhD in Teaching Professor Blog
I've been rereading some of the research on student self-assessment and thinking about how students develop these skills. They are important in college, all but essential in most professions, but they're rarely taught explicitly. We assume (or hope) they're the kind of skills student can pick up on their own, even though most of us see evidence to the contrary. Many students, especially beginning ones, routinely overestimate their ability and underestimate the difficulty of course content. How often did I hear this comment about my courses: "A communication course? Gotta be a piece of cake. I've been talking since I was 3."
---
By: Maryellen Weimer, PhD in Teaching Professor Blog
For most of us, it's that time of the semester when we are least likely to think positively about students. We're tired, they're tired, and there are still the proverbial miles to go. Some students have finally figured out they're in trouble in the course, but none of their difficulties derive from anything they've done (or haven't done), or so they think. Others remain lost in a thick fog that obscures even very fundamental course content. Passivity is the default mode for what feels like an increasingly large group. If there's any lull in the action, they settle back, quickly finding their way to places of mental relaxation.
---
By: Maryellen Weimer, PhD in Teaching Professor Blog
Here's a great resource: the Teaching Practices Inventory. It's an inventory that lists and scores the extent to which research-based teaching practices are being used. It's been developed for use in math and science courses, but researchers Carl Wieman and Sarah Gilbert suggest it can be used in engineering and social sciences courses, although they have not tested it there. I suspect it has an even wider application. Most of the items on the inventory are or could be practiced in most disciplines and programs.
---
By: Maryellen Weimer, PhD in Teaching Professor Blog
One of the best gifts teachers can give students are the experiences that open their eyes to themselves as learners. Most students don't think much about how they learn. Mine used to struggle to write a paragraph describing the study approaches they planned to use in my communication courses. However, to be fair, I'm not sure I had a lot of insights about my learning when I was a student. Did you?
---
By: Maryellen Weimer, PhD in Teaching Professor Blog
"I just stumbled onto this. . ." I heard the phrase a couple of times in presentations during the recent Teaching Professor Technology Conference. Faculty presenters used it to describe their discovery of an aspect of instruction that worked well, such as an assignment detail or activity sequence. Since then I've been thinking about accidental learning and the role it plays or might play in the instructional growth of teachers.
---
By: Maryellen Weimer, PhD in Teaching Professor Blog
I have some concerns about flipping courses. Maybe I'm just hung up on the name—flipping is what we do with pancakes. It's a quick, fluid motion and looks easy to those of us waiting at the breakfast table. I'm not sure those connotations are good when associated with courses and that leads to what centers my concerns. I keep hearing what sounds to me like "flippant" attitudes about what's involved.
---
By: Maryellen Weimer, PhD in Teaching Professor Blog
My interest in participation and discussion continues. How do we use them so that they more effectively promote engagement and learning? A couple of colleagues and I have been working on a paper that deals with how we define participation and discussion. (Side note: If you want to challenge your thinking about an aspect of teaching and learning, consider focused conversations with colleagues and the purposefulness of a writing project. I have said it before and will likely say it again: We have so much to learn from and with each other.) One of the new insights that has come to me out of this collaboration involves the relationship between participation and discussion. I used to think of them as being related, but I didn't see them as interrelated.
---