THE Teaching Professor Blog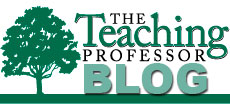 The Teaching Professor Blog is written by Dr. Maryellen Weimer, professor emerita at Penn State Berks and one of the nation's most highly regarded authorities on effective college teaching. Many of you know Maryellen as the editor of The Teaching Professor newsletter and from her book Learner-Centered Teaching: Five Key Changes to Practice, which is considered the go-to guide for educators looking to adopt a learner-centered approach in their classrooms.
The Teaching Professor Blog features a new weekly post from Maryellen on such topics as: the scholarship of teaching and learning, student engagement, classroom policies, active learning, assignment strategies, grading and feedback, and student performance.
---
By: Maryellen Weimer, PhD in Teaching Professor Blog
I've been reading some old issues of The Teaching Professor newsletter and ran across a lovely piece by William Reinsmith on learning moments. He's writing about those times when students get it, when something turns the lights on and they glow with understanding. It may be a moment when they finally figure out how to do so something—a long elusive skill or a solution to a problem. Other times it's a moment of insight, often a possibility or explanation that had never crossed their minds, or a set of ideas that come together and create a new perspective on a familiar issue.
---
By: Maryellen Weimer, PhD in Teaching Professor Blog
Most students begin college, the academic year, and new courses motivated and optimistic. Many first-year students expect to do well because they were successful in high school. Some are right, but others will only find similar success if they work much harder than they did in high school. Yet most start out expending the same level of effort. They will talk with their classmates and convince each other that an exam covering three chapters can't be that hard, so they put off studying and then "look over" the chapters the night before— happily dealing with any and all interruptions and distractions.
---
By: Maryellen Weimer, PhD in Teaching Professor Blog
I've always said no, effort shouldn't count. When students pleaded, "but I worked so hard," or "I studied so long," I would respond with the clichéd quip about people with brain tumors not wanting surgeons who try hard. Besides if students try hard, if they do their assignments, come to class, take notes, ask questions, and study on more nights than the one before the exam, that effort will pay off. They will learn the material, and their grades will reflect that learning.
---
By: Maryellen Weimer, PhD in Teaching Professor Blog
There's an excellent article on grading in a recent issue of Cell Biology Education-Life Sciences Education. It offers a brief history of grading (it hasn't been around for all that long), and then looks to the literature for answers to four key questions.
---
By: Maryellen Weimer, PhD in Teaching Professor Blog
I've just had one of those in-your-face learning experiences. In fact, it was so unnerving that I'm not sure I can even write about it. It all started when I bought a new computer and, as a result, had to learn an entirely new email system. Although not an unusual or difficult situation for most college teachers, it turned into an absolutely awful experience for this learner. I haven't felt such frustration, anger, and despair for a long time.
---
By: Maryellen Weimer, PhD in Teaching Professor Blog
"In our class: 1) everyone is allowed to feel they can work and learn in a safe and caring environment; 2) everyone learns about, understands, appreciates, and respects varied races, classes, genders, physical and mental abilities, and sexualities; 3) everyone matters; 4) all individuals are to be respected and treated with dignity and civility; and 5) everyone shares the responsibility for making our class, and the Academy, a positive and better place to live, work, and learn."
---
By: Maryellen Weimer, PhD in Teaching Professor Blog
I just read a couple of interesting studies exploring the relationship between the content in texts and the content covered by the teacher. The analysis was of introductory psychology courses and the conclusion not terribly surprising. The lecture and textbook material corresponded closely. If the chapter was long and the coverage extensive, a larger amount of lecture time was devoted to the topic as well.
---
By: Maryellen Weimer, PhD in Teaching Professor Blog
Whether it's a student who is texting during class, an online student who makes minimal comments to the discussion board, or a teacher who marches nonstop through mountains of material, the learning environment is defined by a combination of individual behaviors, and everybody contributes to what that environment becomes.
---
By: Maryellen Weimer, PhD in Teaching Professor Blog
Preparing one of the plenary sessions for the recent Teaching Professor Conference provided me the opportunity to do some more work on questions, which if you're a regular reader of this blog you will recognize as an ongoing interest of mine for more than a year now. In fact, the post on May 28, 2014 is a reprint of an article I wrote for the March 2013 issue of The Teaching Professor newsletter. It represents some of my early thinking on the topic, including ways of emphasizing questions in our teaching and modeling good question types for our students. The ability to ask good questions is often an underrated and underdeveloped skill, yet questions can play such a significant role in learning when used properly.
---