THE Teaching Professor Blog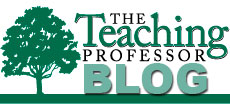 The Teaching Professor Blog is written by Dr. Maryellen Weimer, professor emerita at Penn State Berks and one of the nation's most highly regarded authorities on effective college teaching. Many of you know Maryellen as the editor of The Teaching Professor newsletter and from her book Learner-Centered Teaching: Five Key Changes to Practice, which is considered the go-to guide for educators looking to adopt a learner-centered approach in their classrooms.
The Teaching Professor Blog features a new weekly post from Maryellen on such topics as: the scholarship of teaching and learning, student engagement, classroom policies, active learning, assignment strategies, grading and feedback, and student performance.
---
By: Maryellen Weimer, PhD in Teaching Professor Blog
The March 12, 2014 post raised issues about those students who really don't want to work with others in groups … "lone wolves" as they're called in the literature. Your responses raised a number of issues. I thought it might be worth exploring some of them a bit further.
Many of the comments defended the lone wolves, pointing out that their good academic performance could be compromised by having to work in a group. Did anyone comment about those social learners (whose existence is also well documented in the research) who do well working in groups? We require those students to spend time listening and learning alone, experiences that potentially compromise their academic performance.
---
By: Maryellen Weimer, PhD in Teaching Professor Blog
The Effective Lifelong Learning Inventory, developed by a research group at the University of Bristol in the UK, is a self-assessment tool that helps learners develop an awareness of how they learn and encourages them to take responsibility for their learning. It contains seven scales that profile an individual's capacity for lifelong learning. The high and low ends of those scales identify two very different approaches to learning. I think they make a nice companion to the list of learner characteristics in the January 22, 2014 post.
---
By: Maryellen Weimer, PhD in Teaching Professor Blog
I love it when something in the blog leads us to new ideas and insights. Neil Haave, who teaches on the Augustana Campus of the University of Alberta, submitted an article on learning philosophies. (You can find the article in the April issue of The Teaching Professor newsletter) His thinking about learning philosophies was stimulated by his experience evaluating e-portfolios, which were being piloted on his campus, and by a couple of posts on this blog (November 13, 2013 and January 22, 2014). He was struck by how few insights the seniors preparing these portfolios had about themselves as learners and came to the conclusion that they should start writing about how they learn long before the end of their academic careers.
---
By: Maryellen Weimer, PhD in Teaching Professor Blog
Chemistry professor Steven M. Wright has written a one-page essay about his niece, Julia, learning how to downhill ski. She was ready for her first ride on the chairlift and Wright was helping her. He's a professor so he covered the topic in a well-organized, easy-to-understand way. It was a short, five minute lecture that ended with a repeat of the main point, "keep your ski tips up when you get on the lift."
---
By: Maryellen Weimer, PhD in Teaching Professor Blog
"I'd really rather work alone. . ."
Most of us have heard that from a student (or several students) when we assign a group project, particularly one that's worth a decent amount of the course grade. It doesn't matter that the project is large, complex, and way more than we'd expect an individual student to complete. That doesn't deter these bright, capable students who are confident of their abilities and really don't want to work with others much less depend on them for their grade.
---
By: Maryellen Weimer, PhD in Teaching Professor Blog
I remember with horror and embarrassment the first multiple-choice exam I wrote. I didn't think the students were taking my course all that seriously, so I decided to use the first exam to show just how substantive the content really was. I wrote long, complicated stems and followed them with multiple answer options and various combinations of them. And it worked. Students did poorly on the exam. I was pleased until I returned the test on what turned out to be one of the longest class periods of my teaching career. I desperately needed the advice that follows here.
---
By: Maryellen Weimer, PhD in Teaching Professor Blog
As Ron Berk (known for his pithy humor) observes, the multiple-choice question "holds world records in the categories of most popular, most unpopular, most used, most misused, most loved and most hated." According to one source I read, multiple-choice questions were first used around the time of World War I to measure the abilities of new Army recruits. As class sizes have grown and the demands on teacher time expanded, they have become the favorite testing tool in higher education.
---
By: Maryellen Weimer, PhD in Teaching Professor Blog
I've been delving a bit into the emotional aspects of teaching. They continue to be largely ignored in the research literature and in our discussions of teaching. Could that be because emotional things fit uncomfortably in the objective, rational, intellect-driven culture of the academy? We teach in an environment where content continues to dominate the thinking of so many faculty that there's little room left for consideration of the emotional. Nonetheless, I remain convinced that you cannot power a teaching career on the intellect alone. Emotions are an ever-present part of teaching.
---
By: Maryellen Weimer, PhD in Teaching Professor Blog
This weekend I saw a diagram with visual representations of teacher-centered instruction juxtaposed to graphics illustrating learner-centered approaches. I heard myself telling someone that I used to think of them as separate, and I still see value in understanding the differences between them. But thinking about them dichotomously is not how I think about them now—thanks to a re-read of some of Parker Palmer's work and a great article written for the newsletter by colleagues Ricky Cox and Dave Yearwood (January, 2013).
---