THE Teaching Professor Blog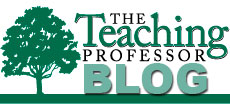 The Teaching Professor Blog is written by Dr. Maryellen Weimer, professor emerita at Penn State Berks and one of the nation's most highly regarded authorities on effective college teaching. Many of you know Maryellen as the editor of The Teaching Professor newsletter and from her book Learner-Centered Teaching: Five Key Changes to Practice, which is considered the go-to guide for educators looking to adopt a learner-centered approach in their classrooms.
The Teaching Professor Blog features a new weekly post from Maryellen on such topics as: the scholarship of teaching and learning, student engagement, classroom policies, active learning, assignment strategies, grading and feedback, and student performance.
---
CURRENT ARTICLE • April 1st, 2015
By: Maryellen Weimer, PhD in Teaching Professor Blog
I've been asked to give a talk that explores some of the top teaching-learning lessons learned in the past 15 years. It's a good reflection exercise that also brings up those lessons we haven't learned or aren't yet finished learning.
I'm figuring the best place to start is with technology. During the past 15 years, technology has become a dominating force in every aspect of our lives and that includes education. As it descended upon higher education, we didn't start out asking the right question. We got focused on the mechanics of "how does it work" (or, in the case of those us not all that adept at mastering technology, "why doesn't it work?") and "what can we do with it?" The better question is whether a new technology promotes learning. We are asking that question now, but still struggle with the balance between what's possible and what promotes learning.
OTHER RECENT ARTICLES
By: Maryellen Weimer, PhD in Teaching Professor Blog
"From the way students act at the beginning of a class we can tell a great deal about the profs who taught them previously." It's an insight offered by David Johnson and Roger Johnson, the well-known cooperative learning researchers and advocates.
---
By: Maryellen Weimer, PhD in Teaching Professor Blog
The evidence that students retain content longer and can apply it better when exams and finals are cumulative is compelling. When I pointed to the evidence in a recent workshop, a faculty member responded, "But I can't use cumulative exams. My students would revolt." Students don't like cumulative exams for the very reason we should be using them: they force regular, repeated encounters with the content. And it's those multiple interactions with the material that move learning from memorization to understanding.
---
By: Maryellen Weimer, PhD in Teaching Professor Blog
Is it time to change the online learning conversation? The debate about whether online courses are a good idea continues with most people still on one side or the other. Who's right or wrong is overshadowed by what the flexibility and convenience of online education has offered institutions and students. Those features opened the door, and online learning has come inside and is making itself at home in most of our institutions. No doubt the debate over the value of online learning will continue, but perhaps it's being judged by the wrong criteria.
---
By: Maryellen Weimer, PhD in Teaching Professor Blog
The emergence of different kinds of group work is a welcome outgrowth of the move away from lectures. There's still plenty of lecturing going on, but there's less than there used to be. In its place are a variety of activities that more effectively engage students; one of the most common being the use of group work.
---
By: Maryellen Weimer, PhD in Teaching Professor Blog
Many of us have encountered cohort groups in our teaching, and by that I mean those groups of students that proceed together through a program, typically a professional one. They take all or most of their courses together, often in lock step. Cohort teaching happens to some degree in most courses. Students in a major at smaller institutions often end up taking many of their courses together. Sometimes there are cohort groups within a class, say a group of commuter students who went to the same high school, or students who live on campus in the same residence hall, or a group of adults taking a work-related course.
---
By: Maryellen Weimer, PhD in Teaching Professor Blog
In the final post of 2014, I shared some comments about blog "conversations," wondering what else we might do to take our exchanges to the next level. The comments made in response to a post are typically shared across a period of time. If you're one of the first to comment, do you return later to read what other folks had to say? I'm doubtful that many us of have that sort of time.
---
By: Maryellen Weimer, PhD in Teaching Professor Blog
"Teaching is such a challenge! Just when one thinks improvements are happening, the goal post of perfection moves further away. A bit like getting better headlights on one's car: now you can see as far as the next corner, but the final destination remains out of sight!" Thanks to Nigel Armstrong, whom I met during a professional development day at Niagara University, for this insight.
---
By: Maryellen Weimer, PhD in Teaching Professor Blog
Providing students with useful information about how to function effectively when they work in groups stands a good chance of improving what the group produces. It also helps students develop important skills they can use in group activities in college and beyond. Providing the information doesn't guarantee that students will make use of it, but it's a better option than not providing it.
---
By: Maryellen Weimer, PhD in Teaching Professor Blog
This weekend I discovered a "memo to students who are disappointed with their last test grade." What a great idea! I wasn't surprised when I found out it was more of Rich Felder's good work.
Students are terribly optimistic about their grades, especially at the beginning of a course. Then comes the first exam, many of us giving it early on in an attempt to dislodge these convictions that success will come easily and with little or no effort. If we return the exams during class, disappointment hangs heavy in the air. In those moments of despair there's an opportunity to confront students with what they might have done (or not done) that caused (or is at least related to) that disappointing score.
---