THE Teaching Professor Blog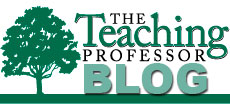 The Teaching Professor Blog is written by Dr. Maryellen Weimer, professor emerita at Penn State Berks and one of the nation's most highly regarded authorities on effective college teaching. Many of you know Maryellen as the editor of The Teaching Professor newsletter and from her book Learner-Centered Teaching: Five Key Changes to Practices, which is considered the go-to guide for educators looking to adopt a learner-centered approach in their classrooms.
The Teaching Professor Blog features a new weekly post from Maryellen on such topics as: the scholarship of teaching and learning, student engagement, classroom policies, active learning, assignment strategies, grading and feedback, and student performance.
---
CURRENT ARTICLE • May 22nd, 2013
By: Maryellen Weimer, PhD in Teaching Professor Blog
It's that time of the year when end-of-course ratings and student comments are collected. When the feedback arrives, the quality often disappoints—and if the feedback is collected online, fewer students even bother to respond. Most of the comments are dashed off half thoughts, difficult to decipher. Complaints aren't accompanied with constructive suggestions. Yes, some do say really nice things, but others sound off with pretty awful comments. However, I don't think students are entirely at fault here.
OTHER RECENT ARTICLES
By: Maryellen Weimer, PhD in Teaching Professor Blog
It's probably the question I'm most asked in workshops on learner-centered teaching. "What are some good places to start? My students aren't used to learner-centered approaches." Sometimes the questioner is honest enough to add, "and I haven't used many previously." Before the specifics, here's some general recommendations: start slowly (for example, don't add 14 learner-centered strategies to a mostly lecture course); try simple, reasonably straightforward activities first; and define success before implementing the activity. As for those "good places" to begin infusing your teaching with learner-centered strategies, here are some approaches to try.
---
By: Maryellen Weimer, PhD in Teaching Professor Blog
Would your students benefit from participation in a study group? Are you too busy to organize and supervise study groups for students in your courses? I'm guessing the answer to both questions is yes. If so, here are some ways teachers can encourage and support student efforts to study together without being "in charge" of the study groups. Be welcome to add more ideas to the list.
---
By: Maryellen Weimer, PhD in Teaching Professor Blog
Not everything we do in our courses works as well as we'd like. Sometimes it's a new assignment that falls flat, other times it's something that consistently disappoints. For example, let's take a written assignment that routinely delivers work that is well below our expectations. It might be a paper that reports facts but never ties them together, an essay that repeats arguments but never takes a stand, or journal entries that barely scratch the surface of deep ideas.
---
By: Maryellen Weimer, PhD in Teaching Professor Blog
It's time we started exploring some of the tough questions on texting. The May issue of The Teaching Professor newsletter contains highlights from a survey of almost 300 marketing majors about their texting in class. The results confirm what I'm guessing many of us already suspect. A whopping 98% of the students reported that they had texted some time during the term in which the data was collected. They did so for an unimpressive set of reasons, the most popular being "I just wanted to communicate." Fifty-six percent of the cohort said they were currently taking a class in which the teacher banned texting. Forty-nine percent said they texted anyway.
---
By: Maryellen Weimer, PhD in Teaching Professor Blog
"What did you think about the reading?" can serve as an acceptable discussion prompt if your class is reading a novel, but a question like that doesn't generate much response when the assigned chapter is in an engineering mechanics book or a principles of accounting text. For those who teach "technical content" — and by that I mean material with "right" answers and preferred ways of doing things, like problems with specific solutions or checklists of procedures — it can be doubly difficult to get students talking.
---
By: Maryellen Weimer, PhD in Teaching Professor Blog
I have been known to berate the quality of classroom discussions—student-teacher exchanges that occur in the presence of mostly uninvolved others. Perhaps instead of berating I ought to be trying to help faculty improve how they lead discussions, and that has gotten me thinking about all the details discussion leaders must keep track of and make decisions about — all on the fly. Leading discussions effectively is not an easy task for any of us. Even those who make it look easy have actually worked very hard to hone this important skill.
---
By: Maryellen Weimer, PhD in Teaching Professor Blog
I always hesitate to do posts on student ratings. Every teacher has opinions, a lot of which aren't supported by the research. But this post is on a topic about which there is little disagreement. Students don't take the process all that seriously, especially now that they complete rating forms online. Few take the time to provide teachers with quality feedback. They mark the rating boxes quickly and dash off a few poorly worded comments. Most of the time it's not a process that benefits teachers or students, which is sad because it could be an experience with learning potential for both.
---
By: Maryellen Weimer, PhD in Teaching Professor Blog
Who should be taking online courses? Are online courses equally appropriate for all students? Can any content be taught in an online format or do some kinds of material lend themselves to mastery in an electronic environment? Who should be teaching these courses? These are all good questions that institutions offering online courses—and instructors teaching them—should consider.
---
By: Maryellen Weimer, PhD in Teaching Professor Blog
I often get questions about group work. Recently, the question was phrased like this: "Can students learn anything in groups?" And, like faculty sometimes do, this questioner proceeded with the answer. "I don't think my students can. When they work in groups they have no interest in doing quality work. Whatever the first person says, they all agree with that and relax into a social conversation."
---