The 10th Annual Teaching Professor Conference
Join us May 31 – June 2, 2013 in New Orleans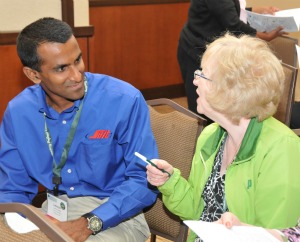 The Teaching Professor Conference is three-day event packed with workshops designed to enrich your teaching practice. It features plenary sessions keynoted by nationally-recognized experts, carefully selected concurrent sessions on a range of relevant topics, round table discussions, poster sessions and all sorts of opportunities for informal interaction.
But as educational as this event is, what faculty members tell us makes the conference so memorable and worthwhile is the energy that surrounds its activities. Faculty members attend because they are passionate about teaching. With more than 850 attendees who are all interested in teaching that promotes learning, there's an enthusiasm that's infectious.
Participants willingly share ideas, insights, experiences, information and resources. They raise issues and ask questions as they explore topics in sessions, during breaks and over meals. The conference makes possible the kind of collegial exchange that supports and invigorates teachers.
We hope you can join us for the 2013 Teaching Professor Conference in New Orleans, May 31-June 2. It is our 10th annual and promises to be another powerful learning experience.
Register for the 2013 Teaching Professor Conference »