Is Twitter a powerful learning tool or a colossal waste of time? It depends whom you ask. In its second annual survey on the popular micro-blogging technology, Faculty Focus found a great divide in how professors perceive Twitter, including whether it should be used in the classroom or is best reserved for networking with peers.
The 2010 Faculty Focus survey of nearly 1,400 higher education professionals found that more than a third (35.2 percent) of the 1,372 respondents who completed the survey in July-August 2010 use Twitter in some capacity. That's up from 30.7 percent in 2009.
Meanwhile, the percentage of people who never used Twitter decreased from 56.4 percent in 2009 to 47.9 percent in 2010. The remaining 16.9 percentage consists of those who tried Twitter, but stopped using —up from 12.9 percent in 2009.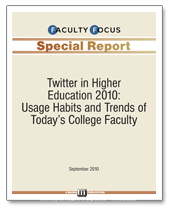 Of those who currently use Twitter, the most common activities include "to share information with peers" and "as a real-time news source." Instructional uses, such as "to communicate with students" and "as a learning tool in the classroom" are less popular, although both activities saw increases over the previous year.
Non-users expressed concerns that Twitter creates poor writing skills and could be yet another classroom distraction. Many also noted that very few of their students use Twitter. Finally, a new trend that emerged this year centered on the belief that many feel they already have too many places to post messages or check for student questions/comments. As one professor put it, "I have no interest in adding yet another communication tool to my overloaded life."
In terms of future use, just over half (56.8 percent) of current Twitter users say they expect to increase their use during the coming academic year. Only 2.5 percent say their Twitter use will likely decrease, and 40.7 percent say it will stay about the same.
As we learned from last year's survey, people have very strong feelings when it comes to Twitter. Not much has changed in that regard. Some still see it as a platform for people to make mind numbing pronouncements on the minutia of everyday life, while others say they use Twitter to build a strong personal learning network (PLN), communicate with students, and stay current.
Here are just a few comments from faculty on how they use Twitter effectively:
Greatest learning tool since Socrates spoke… No I'm not kidding. The access to industry leaders and educators I have developed is second to none!
I find Twitter can be a useful academic tool. It provides immediate access to a world of ideas regarding the implementation of technology into pre-service teacher education.
I've found Twitter useful for increasing students' time thinking about course related content through tweeting supplemental content links and for some very limited student interaction. I'm hoping to encourage more student input.
Twitter has been the most effective, efficient, and cheapest professional development I have had in years.
Twitter is a useful educational tool, administrators need to reward faculty that push their teaching forward using innovative methods, otherwise other faculty see no value in expending time and energy on yet another thing to do.
I'm quite happy with Twitter and what its ability to facilitate dissemination of information to groups in real time, but getting students to adopt it has been the biggest drawback.

Here are a few of the comments from educators who don't use Twitter:
Too superficial, too instantaneous, leaves no time or space for reflection
My goal as an educator is to get students to think deeply and extend their attention spans. This tool is completely antithetical to both. It is a sign of what is wrong with education today.
Don't need any more distractions for students. Keep the classroom free from this nonsense.
When I asked my students if they would like me to start using Twitter, they almost universally said 'no'. Instead, they felt it would be more useful to use Facebook.
I may be an old codger, but between land lines, cell phones, Skype, email, Blackboard, and Facebook, I have enough to keep me busy.
We use Moodle on campus which allows us to communicate using forums, blogs, wikis, etc. I don't think it is necessary to use every tool available just for the sake of using them. You need to ask yourself if using the tool is actually adding value to the work that you do.