Free report reveals best practices in distance education
Tips for Creating a Distance Learning Program
Finally, a special report from the front lines that details how distance educators are solving today's distance learning challenges.
How do you overcome the many obstacles of launching a distance education program? And, once you've successfully launched your online program, what's the best way to grow it?
Distance education is only now overcoming its status as an academic upstart; some sort of fringe offering that's inferior to traditional classroom learning. Like any new movement, distance education has its growing pains. But in experiencing these challenges, it's important for distance educators to know that they're not alone. Many of these difficulties are actually common experiences, and your colleagues across the country have been working on smart, creative ways to turn them to their advantage.
So, where do you find the best distance learning ideas?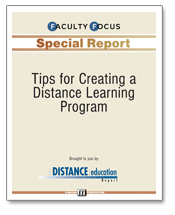 Tips for Creating a Distance Learning Program
Download your copy of this report today!

It's FREE to Faculty Focus members.
Best practices in distance learning from a source you can trust
There's no shortage of information out there on distance education, but wouldn't it be great if you had quick access to battle-tested advice from the front lines without having to wade through volumes of extraneous material? Now you do. Developed by the editor of Distance Education Report newsletter, Tips for Creating a Distance Learning Program is a collection of articles by educators who understand the challenges of distance education, and have developed practical solutions and actionable advice that will set your program on the path to success. Best practices include:
overcoming obstacles to faculty participation in distance education
lessons for building and running a successful distance learning program
keys to improving support for online students
faculty perspectives vs. administrator perspectives
legal issues for distance education administrators
online teaching tips that work
effects of a first-year experience course for non-traditional students
a 12-step program for gaining college-wide support for online programs
Tips for Creating a Distance Learning Program will provide you with the facts on what works to keep your distance learning program moving forward. You'll find ideas from distance educators who've found creative yet practical solutions to the common pitfalls to establishing distance learning programs. Regardless of your distance education experience, you'll find this new resource worth your time.
Get the support you need to drive your distance learning programs forward!
In less than an hour, you can discover proven distance learning techniques that you can use immediately.
I speak with distance education administrators and educators on a daily basis and I understand you are very busy indeed. So, with such limited time, isn't it worth it to get a resource that already has the "digging" done for you?
That's why you'll appreciate this fast-reading report that distills the most essential information on distance learning programs into a useable format that's easy to digest. I urge you to download your complimentary copy of Tips for Creating a Distance Learning Program, right now. Simply enter your email in the banner below.
If you run a distance education program, I promise, it's worth your time to read it.
With my sincere best wishes for your continued teaching success,
Chris Hill
Editor, Distance Education Report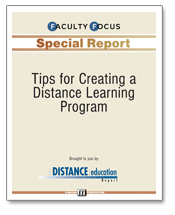 Tips for Creating a Distance Learning Program
Download your copy of this report today!

It's FREE to Faculty Focus members.
If you have any questions contact Customer Service at 800-433-0499 or (608) 246-3590 or email us at support@facultyfocus.com.