How do you bring students together when they're physically dispersed? Building relationships and communities in online courses is a concern for anyone involved in distance learning. After all, getting students to work effectively in groups is always a challenge. When you add the variables of time and distance to the equation, there are even more obstacles to overcome.
If this type of challenge sounds familiar to you, you'll want to download Student Collaboration in the Online Classroom, a FREE special report developed to share best practices and current thinking on online student collaboration.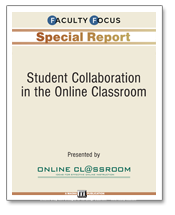 Get your copy of Student Collaboration in the Online Classroom now!
One of the best teaching tools in a traditional classroom is the team project. When students work together, they learn a great deal – not just about what they're studying, but about how to work with others toward common goals, with shared responsibilities, for shared reward.
Traditional classrooms have an innate advantage in bringing students together … the students are sitting there right in front of them. A collaborative project can begin by simply seating the team at the same table.
Things are much different in an online environment. Students are not in the same room. They may not be in the same ZIP code. They may not be in the same state, or even country. Not only that, but due to the asynchronous nature of most distance education courses, it's unlikely the students will even be online at the same time.
It's no surprise, then, that adapting collaborative projects to online classes has been a challenge for educators.
This 32-page report is yours FREE simply by signing up for Faculty Focus .
Student Collaboration in the Online Classroom is a collection of reports and analyses by the editorial staff of Online Classroom newsletter, complemented by submissions from educators at leading colleges and universities nationwide.
Nearly 20 articles fill the pages of this special report, examining a wide range of student collaboration-related issues. Here's just a small sampling:
Improving Results and Reducing Frustrations From Team Activities
7 Ways to Improve Student Satisfaction in Online Courses
Developing Community Online
Facilitating Student Interaction With Online Discussion Groups
Comparing Online Peer Interaction Methods
Online Process-Oriented Group Projects
How a Former Student/Current Instructor Facilitates Online Student Collaboration
It's a detailed look at the state of the art in online collaborative projects, and truly a "must-read" for anyone on the leading edge of online education today.
Faculty Focus contains a wealth of valuable material – not just about online learning, but other important subjects ranging from teaching scholarship to technology in education. It's packed to its electronic rafters with ideas, best practices, analyses and other news you can use on the topics that impact your students, your school and your work, including:
Instructional Design
Faculty Development
Distance Learning
Classroom Management
Educational Assessment
Faculty Evaluation
Curriculum Development
Trends in Higher Education
Learning Communities
And much, much more.