Large classes create enormous challenges for the faculty who teach them. From reducing anonymity to incorporating active learning activities, there's a reason why large classes are considered the most difficult to teach.
So much of what we know about effective instruction is all that much more difficult with a large class. If teaching large classes is a part of your life, you'll want to download our special report: Strategies for Teaching Large Classes.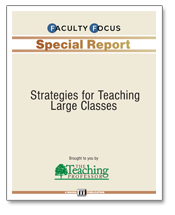 Get your FREE copy of Strategies for Teaching Large Classes.
Sometimes you look out from the podium at the sea of faces looking back at you, and you wonder: Is this a class or a rock concert?
Most educators would agree that their ideal teaching environment would be (to carry the musical theme a little further) the equivalent of an intimate, acoustic, coffee-shop performance.
But instead, they often get… Woodstock.
This 20-page report, Strategies for Teaching Large Classes, is yours FREE!
Full of insights, ideas and best practices for the classroom, this must-have report features a dozen articles from our editorial staff and educators at leading colleges and universities nationwide. Here's just a small sampling of the articles you'll find in the Report…
Large Courses and Student Expectations
Tips for Using Questioning in Large Classes
Virtual Teams With Fluid Membership
Actively Engaging Large Classes in the Sciences
What Do Students Think About Active learning?
Large Classes: Approaches Taken in One Discipline
Strategies for Large Classes
You'll discover new ways to make large classes meaningful for students, get ideas for creating a richer learning experience, and see how you can restore some sanity to your workload.
Best of all this 20-page Special Report, developed to help you teach large classes well, is absolutely free. It's yours simply for registering to receive e-mail alerts from Faculty Focus.
Stay on top of your game with Faculty Focus
Faculty Focus contains a wealth of information useful to faculty and administrators. It's an online library packed with articles and reports that affect your campus, your students and your work. And it's free!
Faculty Focus brings you current news and views on topics like these:
Instructional Design
Faculty Development
Distance Learning Administration
Classroom Management
Online Education
Curriculum Development
Educational Assessment
Faculty Evaluation
You'll also find information about upcoming conferences, seminars and other learning opportunities, as well as our popular newsletters. It's a tremendous resource for faculty members, department chairs, academic deans and others … and again, it doesn't cost a penny.